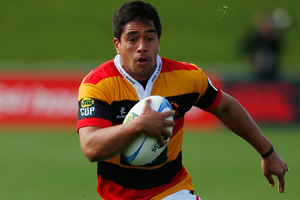 Waikato 42
Auckland 24
The defence was threadbare and the attack was cohesive between Waikato and Auckland but the hosts galvanised the necessary spirit to inflict Auckland's first ITM Cup defeat in six matches at Hamilton.
It was Waikato's second competition win. Both sides took bonus points in the 10-try romp.
It always seems a shame when a largely empty stand watches a match which a generation ago would have had the stands bursting. Cowbells echoed as the rain poured and wind blew for the majority of the match. However, fluency was not hampered, particularly in the first half, when six tries were ushered in.
The best watch for those huddled in the upper reaches of the stands was a sturdy contest at the scrum. It would have prevented minds drifting longingly to the idea of watching the Eden Park test with hot soup in front of cosy fires later in the evening.
Both tight fives gave little away and the lack of collapses were a further endorsement to the new binding rules.
Touches of brilliance from Waikato blindside flanker Rory Grice and halfback Brad Weber also helped. Grice proved a robust runner as he set up one try from a kick-off, but wasn't averse to mixing it in the tight either where he scored a first half try.
He was a talisman for a more abrasive forward effort overall. Grice's only disappointment was getting sin-binned for a high tackle 12 minutes from the end. Weber demonstrated a snappy pass, directed his forwards well and produced a couple of cameo darts for two tries. The first was a weaving solo dash from the Auckland 22; the second saw him disrupt the combination between Piri Weepu and Peter Saili at the back of the Auckland scrum to snaffle the ball free. For Auckland, captain Hadleigh Parkes had a strong running game at second five-eighths.
A memorable moment came when he outpaced Paul Alo-Emile to the tryline. It wasn't the Waikato tighthead prop's fault - he should not have been isolated trying to track him - but he did a great impression of Barney Rubble chasing him.
Waikato executed an excellent territory game, pushing Auckland into the corners where possible, especially in the first half. Errors marred the possession stakes but Auckland produced spells of expansive continuity, particularly those which led to tries for Patrick Tuipulotu and Liaki Moli.
Waikato fullback Trent Renata deserved commendation for kicking all six conversions in tricky conditions.
Waikato 42 (R.Grice, B.Weber 2, W.Hawera, S.Masirewa, T.Renata tries, Renata 6 con) Auckland 24 (H.Parkes, P.Tuipulotu, V.Aso, L.Moli tries, P.Weepu 2 con)