Nonu left with no choice but to take his second sabbatical in as many years.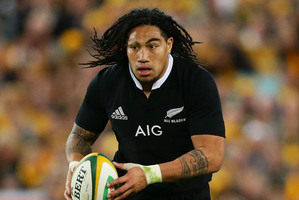 The Ma'a Nonu saga will come to an end of sorts next week when he's expected to be granted permission to skip Super rugby on the condition he recommits to New Zealand until after the next World Cup.
Exhaustive efforts by Nonu's management team, the NZ Rugby Union and NZ Rugby Players' Association have failed to find him a Super 15 contract for next year.
Having reached the impasse - the unprecedented and peculiar state of being a world-class All Black and unwanted at the level below - Nonu has had no choice but to ask for his second sabbatical in as many years.
Approval has to be granted by the NZRU board who, later this week, are expected to sanction the move as part of a two-year contract extension.
The national body is conscious of how bad the situation looks and is reluctant so see Nonu be given the option of more offshore rugby. But the 31-year-old remains a critical part of the All Black set-up and they cannot afford to lose him.
Nonu's direct running, power and decision-making have been outstanding in five tests this year and he was missed in Hamilton while he rested a troublesome ankle.
The All Blacks like to play to simple patterns where they want their second-five to crash over the gainline - something no one in world rugby does better than Nonu.
Even should Sonny Bill Williams return next year, the All Blacks still want Nonu in the mix, which is why he will be free to spend the first six months of 2014 either playing overseas or resting.
It's believed he's more likely to opt for playing and has already been targeted by French club Clermont, coached by Kiwi Vern Cotter.
More interest is expected from France and possibly Ireland once Nonu is officially released. He definitely won't be heading to Japan as he's missed the registration period.
His release will also be dependent on him signing a provincial contract before he leaves so that he can meet All Black eligibility requirements when he returns.
He won't be available for the June series against England in 2014 and will be expected to play, at least, ITM warm-up games before he can feature in the Rugby Championship. He won't be asked to commit to a Super rugby franchise for 2015 until, at the earliest, next year's competition has finished.
The NZRU are hoping time will be a healer - that either one of the current coaches will be more accommodating and willing to sign Nonu, or that, inevitably, there will be changes in personnel. One thing that won't change is the NZRU's appetite to force any particular side to take him. As this saga has played out, the NZRU have steadfastly refused to force Nonu upon a reluctant franchise. If they do that, they feel they can't hold the coach of that side fully accountable.
To some extent, the Hurricanes were leant on to find a space for Nonu but coach Mark Hammett held his ground. He felt Nonu hadn't taken any responsibility for the chain of events that saw him sacked in 2011.
Hammett is not convinced Nonu has shown much contrition either and talks between the two failed to convince him it would be in the best interest to sign Nonu for next year.
Big game
New Zealand v South Africa, Eden Park, tonight, 7.35pm.