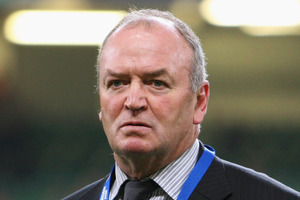 World Cup-winning coach Graham Henry predicts the Wallabies can regain their mantle as the world's best rugby side - but only if they stick to their expansive game plan.
The Wallabies' razzle-dazzle style has come under fire following four straight losses, with last week's 38-12 defeat to South Africa in Brisbane heaping more pressure on new coach Ewen McKenzie.
Australia are currently ranked fourth on the IRB world rankings, and they appear a long way off being able to consistently match it with the all-conquering All Blacks.
But Henry, who coached New Zealand to the 2011 World Cup title, backed McKenzie to lead the revival, claiming the former Reds coach was doing the right thing by encouraging a freeflowing style.
"When they were the best team in the world at the turn of the century, they played an expansive game,'' Henry said.
"It's the way they should play because that's their mentality and that's their skill level.
"I don't think you are going to win games by playing chess-board rugby and kicking the balls in the air and chasing it.
"That's not the way Australians play, and they haven't got the forward pack that can give you that sort of dominance.
"I think they're trying to play the game the right way.
"They're struggling at the moment, but I think a couple of wins under Ewen will put them right.
"They'll gain some confidence. He'll gain some confidence, and they'll grow from it.''
McKenzie enjoyed remarkable success during his stint with the Queensland Reds, leading the Super Rugby outfit to the 2011 title.
Henry said the ARU made the right decision by appointing McKenzie over Jake White, who has took the Brumbies to this year's final.
"Jake's South African, so he coaches the way he's developed his coaching over the years,'' Henry said.
"James has put his style in with the Brumbies. They're playing South African kind of rugby.
"Would it be successful at the next level?
"I think Australians would struggle with that style because you need dominance up front. If you haven't got dominance up front, you're buggered.''
Henry is now a coaching advisor to world No.10 Argentina, who take on the Wallabies in Perth on Saturday night.
The Pumas haven't beaten Australia since 1997, but showed plenty of fight in recent losses to South Africa and NZ.
-AAP