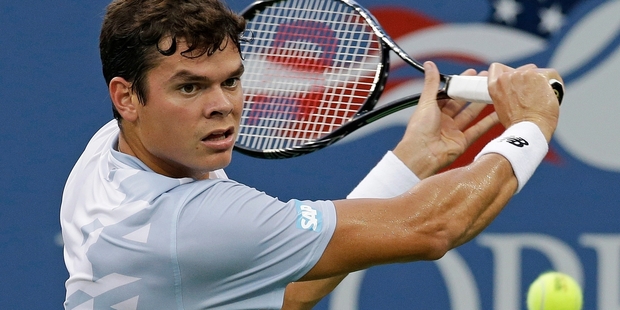 Rank outsiders Canada take their fairytale run to Belgrade as they face a daunting challenge against Serbia, while defending champions Czech Republic host Argentina in the Davis Cup semifinals starting tonight.
The Canadians, who had never won a World Group tie before causing upsets against Spain and Italy this year, have been the tournament's gatecrashers, and travelling to the cauldron of the Belgrade Arena, where Novak Djokovic will lead the 2012 champions, will be uncharted territory.
The Serbs have chosen to play on clay, likely in order to take the sting out of big-serving Canadian No1 Milos Raonic, who is the country's highest-ever ranked player after breaking into the world top 10.
While Serbian fans will certainly play a huge role with the tie being played in one of the world's largest indoor arenas, the visitors know the region well with three of their players having Eastern European roots.
Raonic was born in Montenegro before moving to Canada at age 2, while veteran doubles player Daniel Nestor hails from Belgrade and Frank Dancevic has Croatian parents.
"Some of the guys have already touched on that, they're looking forward to playing there, and seeing family and friends and relatives and not feeling so out of place, not as out of place for sure as we would be if we were playing in Central or South America," said team captain Martin Laurendeau. "There is a sense of something a bit more comfortable.
"Of all the ties you can play away, for a lot of our guys it's not all that bad to end up there."
Raonic is the man on whom they have built their campaign and the 22-year-old comes into the tie on a seven-match Cup winning streak as he hopes to tame a potentially fatigued Djokovic after his exertions at the US Open.
Canada also have one of the great doubles players in Nestor, who is fourth on the ATP list of victories with 81 and has won all four grand slams as well as the Olympic gold.
He will likely team up with Vasek Pospisil after their epic win against Italy in the last round and having reached the third round at the US Open.
Serbia will turn to world No21 Janko Tipsaravic as their second singles player while doubles player Nenad Zimonjic and world No144 Dusan Lajovic complete Bogdan Obradovic's lineup.
In Prague, Argentina need to overcome the jinx of being the only team to have lost all four of their finals and a poor record against their hosts.
They were beaten by the Thomas Berdych-led Czech team at the same stage last year while their only victory in five meetings dates back to 2005 and a 5-0 sweep in Buenos Aires.
Team skipper Martin Jaite will rue the absence of Juan Martin Del Potro, which leaves Juan Monaco their highest ranked player at 30. He will be supported by Carlos Berlocq, Horacio Zeballos and Leonardo Mayer.
Czech captain Jaroslav Navratil has been boosted by the form of Radek Stepanek, who teamed up with India's Leander Paes to lift the US Open doubles' crown and was the hero who took the decisive rubber in last year's final against Spain.
The winners will meet in the finals scheduled for November 15-17.
- AFP