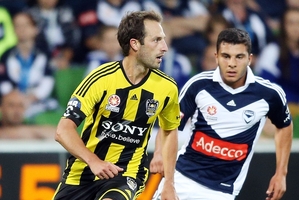 Andrew Durante never expected a fax machine would provide good news for him in 2013.
In the age of text messaging, Skype and email, fax is still the preferred form of communication for world football's governing body Fifa, and on Wednesday they sent through confirmation to New Zealand Football that Durante was officially eligible to play for the All Whites.
It ended a drawn-out process for the Australian-born Wellington Phoenix skipper, who made his All Whites debut against the Solomon Islands in a dead-rubber World Cup qualifier in Honiara in March. Fifa launched a disciplinary hearing in June regarding that game to determine whether Durante was eligible to play for New Zealand or not.
On March 6, Durante became a New Zealand citizen but the sticking point was around the time he spent out of New Zealand while on loan to Sydney FC in 2011. He had also previously sat on the bench for the Socceroos without ever taking the field.
But Durante was given the good news by New Zealand Football's high performance manager Fred de Jong when he returned to the country following the All Whites' second-place effort at the OSN Cup in Saudi Arabia.
"We've turned back time a little bit with the whole process," Durante said. "But that's how [Fifa] operate and at the end of the day I got the result I wanted so it's all good.
"It's quite a detailed briefing of what the case was all about so I can see why it took quite a while and actually reading through it you kind of appreciate Fifa taking the time to actually read all the details."
The fourth-placed team from the North and Central America qualifying group will face the All Whites in a home-and-away playoff. Mexico is the likely opponent, but the All Whites could also face Honduras or Panama.
- APNZ