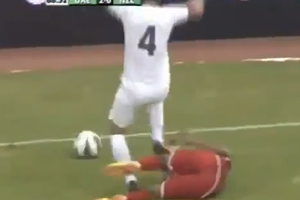 All Whites defender Ben Sigmund forgot the meaning of the word 'friendly' yesterday when he produced a horrendous stomp during a match against the United Arab Emirates in Saudi Arabia.
Losing 2-0 in the closing stages of the four-nation OSN Cup final, the Wellington Phoenix centreback launched himself at UAE winger Ali Mabkhout landing with both feet on the knees of the winger.
But just how bad was it?
It was obviously a red card and a really bad one at that, but many Kiwi fans and pundits have taken it a step further, suggesting it is the worst act ever by an All White and that he should serve a lengthy ban.
How do you think Sigmund's challenge compares with our tackling hall of shame? Is it being blown out of proportion? Check out these clips and add your comments below.
New Zealand's Ben Sigmund sent off for two-footed stomp

Waitakere United's Commins Menapi see's red after this tackle on Auckland City's Riki van Steeden
Kevin Muscat's horrific challenge for Melbourne Victory
Simunic vs. Sulejmani - Brutal foul - Red Card Simunic (Serbia vs Croatia)
Roy Keane Ends Alfie Håland's Career In Manchester Derby