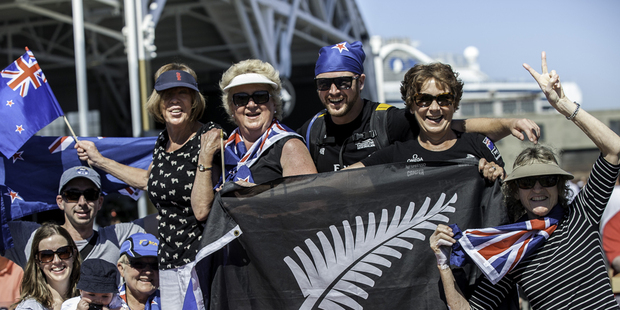 Kiwi yachting fans are taunting Oracle Team USA for its decision to postpone race six of the America's Cup finals.
The defending Cup-holders played its postponement card after Team NZ finished one minute and seven seconds ahead in race five of the finals series.
Oracle skipper Jimmy Spithill said the team needed time to "regroup" after the loss.
"Team NZ obviously have the edge upwind, I'm not going to hide from that. So we have played the card strategically," he said.
Many Team NZ fans called the decision was gutless.
They taunted Oracle in a storm of Twitter posts following the postponement call.
Watched Americas Cup. One team was like 'Don't wanna play anymore' & the other team was like 'So, don't care' & then everyone went home.

— Natasha Guttenbeil (@tashinja) September 10, 2013
So Team Oracle just called in sick ..... sick of losing #AmericasCup

— Evan Belford (@EvanBelford) September 10, 2013
Oracle have just turned into under six year old rugby team defaulting because opposition scored fifty last week

— Sportscafe (@SportscafeNZ) September 10, 2013
Maybe Jimmy just wants to go for a paddle which is a fair call.

— JP Tobin (@jptobin) September 10, 2013
Oracle plays its choker. #AmericasCup

— Vaughn Davis (@vaughndavis) September 10, 2013
Others opted for humour, with many calling for postponement cards to be used more widely in sport and everyday life.
I think we should all get a 'postponement card' whenever we have a tough day at work so we can go home a cry a little bit

— B€n Hur£€¥ (@benhurleycom) September 10, 2013
More sports need this cancellation card rule. "No we're not coming back for the second half. See you tomorrow"

— Sports Freak (@Sportsfreakconz) September 10, 2013
Can't believe Oracle played their wild card. Little do they know, NZ still have a Wild Draw Four up their sleeves.

— Joseph Moore (@josephmoore1) September 10, 2013
When your enemy anticipates your sword, show him instead your postponement card. #newsuntzu #oracle

— Russell Brown (@publicaddress) September 10, 2013
Has no one told @OracleTeamUSA its less painful to just quickly tear the bandaid off #AmericasCup

— Ian Havill (@iHavill) September 10, 2013
The success of the postponement tactic remains to be seen. Race six of the America's Cup finals is set to take place on Friday.
- nzherald.co.nz