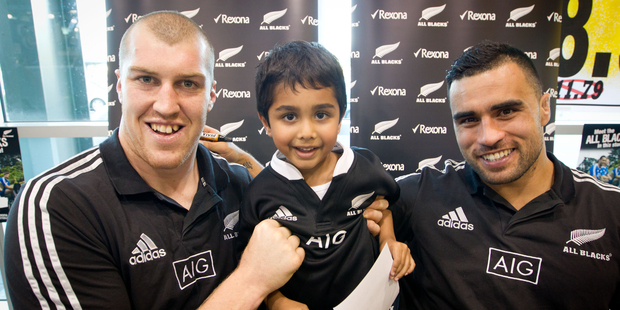 Five-year-old Jacob Pinto wore his All Blacks uniform to meet his sporting heroes at a West Auckland supermarket yesterday.
The West Harbour lad was among scores of All Blacks fans who turned out at Henderson Pak'n Save to meet Liam Messam and Brodie Retallick, who signed autographs and took photos with the crowds.
Jacob, from West Harbour, attended the event with his family especially to meet the players, and thought it was "cool". He was looking forward to Saturday's game against the Springboks at Eden Park.
Best mates Harrison Irving and Ryan Milbourn, both 9, also came to see the players - and were elated to add the names to their All Blacks collector autograph books.
"We are going to the All Blacks game," said Harrison. "I've already got Richie and Dan Carter's [autographs] and a photo of my sister being held up by Dan when she was only a baby."
Retallick said it was "humbling" that so many fans came to see them.
"It is awesome to come out even at a supermarket and see a line out the door," he said. "When everyone's behind you, and hopefully a few people here are going to be there on Saturday night, when you run out and see a full stadium dressed in black it's a pretty cool feeling."