South Africans haven't won at Eden Park since 1937 but then few visiting teams do.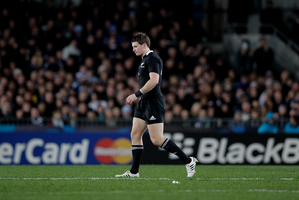 The year was 1937: New Zealand's Prime Minister was Michael Joseph Savage, the Labour Government opened the country's first state house, World War II was two years away - and South Africa thrashed the All Blacks 17-6 at Eden Park.
Nearly 80 years on, apartheid has ended, the nation has its third black president, the first being the former African National Congress leader Nelson Mandela who spent 27 years in prison, and the Springboks are yet to repeat their success in Auckland.
The All Blacks have fashioned an impressive unbeaten run at Eden Park, with their last defeat there a last-gasp 23-20 loss to France in 1994.
In the three matches South Africa have played at Eden Park since their 14-all draw later that year they have conceded 113 points and have twice been on the end of 20-point hidings.
And despite the All Blacks being without their talismanic leader Richie McCaw, out with injury for Saturday's match, statistics guru Tracey Nelson doubts much will change.
"If it wasn't being played at Eden Park they may have a chance potentially but South Africa have not won there since 1937 ... I think it's really hard for teams to come to Auckland and win there."
Statistics show the All Blacks have won 30 consecutive matches at Eden Park since 1994 and on just four occasions have they trailed at halftime.
Ms Nelson said the loss of McCaw's workrate would be felt but she liked the way other players had stepped up, particularly Sam Whitelock and Brodie Retallick.
In the six matches of McCaw's career that he missed playing the Springboks, the All Blacks have an even record, winning three and losing three.
"It's not as big a factor as you would think and that is mainly because they are good at taking him out of the game," she said.
"He's gone back slightly more into a fetching role as opposed to ball carrying."
The Springboks, who last weekend in Brisbane thrashed Australia 38-12 for their first win on the east coast since rugby turned professional in 1996, are feeling confident of breaking their 76-year jinx at Eden Park.
"Last week showed records are there to be broken," said Springboks assistant coach Ricardo Loubscher yesterday.
"We're going to approach this week the same. We took a lot of confidence out of last week. Our job is to make sure we win every test match."
Capacity crowd for Eden Park
Eden Park will likely be a sell-out when the All Blacks play South Africa there on Saturday night.
Auckland rugby marketing manager Grant McKenzie said the game was likely to be played in front of a capacity 48,000 crowd with grandstand tickets "about 99 per cent sold out".
There were still about 2500 tickets remaining for seats in front of the northern and western stands.
Mr McKenzie said the June test against France was played in front of 46,000 people.
The biggest rugby crowd at the revamped Eden Park is still the 60,000 people who watched New Zealand win their second Rugby World Cup title in 2011.
But the biggest rugby crowd to attend a test match at Eden Park remains the 61,240 people who watched the All Blacks beat the Springboks in 1956.
ABs TAB favourites
The All Blacks are firm favourites with the TAB to continue their winning record at Eden Park despite South Africa being on a 10-match winning streak and keen to break their 76-year duck in Auckland.
The TAB has the All Blacks paying $1.30 against South Africa who are at surprisingly long odds of $3.30 for the win.
The All Blacks are also short $1.37 favourites to win the Rugby Championship, with South Africa paying $2.90.