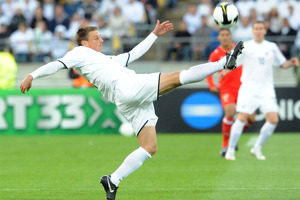 All Whites' defender Ben Sigmund could face further repercussions from FIFA after being sent off in Tuesday's 2-0 OSN Cup final loss to the United Arab Emirates in Saudi Arabia.
Sigmund was dismissed in the 89th minute of the match after jumping on the legs of a prone Ali Mabkhout who he had already brought to the ground in a foul.
New Zealand Football High Performance Manager Fred de Jong said the incident was reckless and could hurt the Wellington Phoenix defender's chances of being selected in the vital World Cup qualifiers later in the year, despite the fact any ban will only affect friendly matches.
"In the context of the game, it was very silly and Ben will be disappointed," de Jong said.
"It will certainly affect his chances of playing in November as [All Whites coach] Ricki Herbert will have to evaluate his match fitness should he serve a longer ban."
New Zealand play the first of two World Cup qualifiers in November against the fourth-placed CONCACAF side, which is still to be decided. Mexico, Panama or Honduras are the likely contenders with the opponent becoming more clearer following the latest round of qualifying matches today.
A straight red card means Sigmund will automatically sit out the next friendly international New Zealand play, and possibly more depending on the referee's report to FIFA on the incident.
Crucially however, de Jong said that any ban imposed will not affect Sigmund's availability for the World Cup qualifiers.
The All Whites can potentially fit in two more friendly internationals during the October window before they will play their first qualifier, away on November 14.
"He will be available for selection for the World Cup qualifiers regardless of the length of the friendly ban, as the qualifiers are on a different level to a friendly international," de Jong said.
De Jong highlighted the fact that the incident puts a dampener on Sigmund's chances of playing in November, despite his experience, as the All Whites have decent cover at centre back.
After the match Herbert said the incident tainted the game.
"I think it's always disappointing. I think you get a player sent off in the heat of the moment, late in the game and I think from the player you've got to accept that responsibility I mean that could be an away fixture against, who knows, potentially Mexico in November and could prove pretty costly to the team," Herbert told RadioLive.