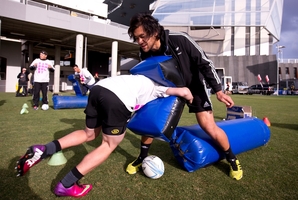 Richie McCaw says it will be tough not to play in "one of the biggest test matches of the year" because of a knee injury which has forced him out of the Auckland match.
The All Black captain walked with a limp at a rugby event yesterday and his knee was obviously quite painful as he kneeled to have a photograph taken.
McCaw tore a medial ligament in his left knee after prop Charlie Faumuina fell on the flanker's leg in a tackle during the test against Argentina in Hamilton at the weekend.
The injury has ruled him out of the test against the All Blacks' old foe, South Africa, this weekend.
During a press conference at the event at Eden Park yesterday afternoon, McCaw said it "could be worse, I suppose" but his knee was "quite loose" and could take up to six weeks to heal.
McCaw agreed it was extra special when the All Blacks played the Springboks. When asked if it would be a tough test to miss, McCaw said: "Yeah, it will be. But I guess that's just the nature of footy. I've probably been lucky over the years that I haven't missed too many really. But I got to say, [this] would be one I'd love to be playing in but it's just the way it is."
He said Saturday's match would be "one of the biggest test matches of the year" and, after seeing how the Springboks played against Australia last weekend, the team realised they were "in for a huge challenge".
McCaw said he'd love to be able to play in Johannesburg next month, but he wouldn't know for sure if that was a possibility until next week.
The All Black skipper was one of the four captains that hold four world cup trophies that surprised 120 teenagers at a workshop yesterday.
The event also included an announcement that an extra $500,000 would be put into expanding rugby across the Auckland region and in schools.
The other captains were Melissa Ruscoe of the 2010 Black Ferns, DJ Forbes from the All Blacks Sevens and Huriana Manuel from the Women's Sevens.
New Zealand Rugby Union CEO Steve Tew said it was a remarkable achievement in world sport to have one country hold all of the silverware available for the highest level of its sport for both men and women.
"Having four world cup trophies at a single time is quite incredible and something that New Zealanders should be immensely proud of.
"To achieve this is testament to the work being done at all levels of the game, from school kids through to the professional area."
All Blacks v South Africa
* Saturday night, 7.35 kickoff at Eden Park.
* ABs' fourth match in the Ivestec Rugby Championship between New Zealand, Australia, Argentina and South Africa.
* Teams play each other twice.
* Tickets still available at www.ticketmaster.co.nz or on 0800 111 999.
* Watch it live on Sky Sport 1 or delayed on Prime.