All Blacks captain Richie McCaw has acknowledged the Springboks will present Sam Cane with the biggest challenge of his career but has backed the 21-year-old to deliver.
McCaw confirmed today the knee injury which forced him from the Waikato Stadium pitch during Saturday night's 28-13 win over the Pumas is a grade two medial ligament tear and he will miss the next two Rugby Championship tests at least.
He said he would like to be available for the test against the Boks in Johannesburg on October 6 but it was too early to tell.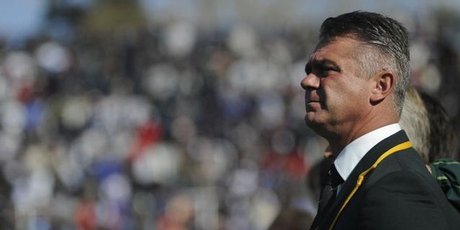 The All Blacks' next assignment after Saturday is the return encounter against Argentina at La Plata on September 29.
"I probably won't know that until I see how this week goes and we get into next week,'' McCaw said of his return. "The Bledisloe in Dunedin [on October 19] I should definitely be right for.''
McCaw said he had quickly turned his focus on helping prepare the All Blacks for what is likely to be one of the toughest tests of the year, adding his sabbatical had given Cane a good introduction to test rugby via three starts in the June tests against France.
However, he acknowledged Saturday's clash would be a step up for the Chiefs youngster, who has played eight tests compared with McCaw's 119.
"The way they [South Africa] played on Saturday night, we realise we're in for a huge challenge. Presumably Sam will play there _ it's going to be a good challenge [for him] but I think for the whole forward pack it's going to be a real physical battle which is what you look forward to.
"He's had a good taste of test footy,'' he added of Cane. "I think Saturday will be a step up on what he's faced before but I'm sure he'll do a good job, I'm sure the guys will make it easy for him.''
McCaw, who joined fellow New Zealand World Cup winners Melissa Ruscoe (Black Ferns), DJ Forbes (sevens) and Huriana Manuel (sevens) with the four trophies at Eden Park today, said the seriousness of his injury was soon obvious.
"It didn't actually hurt too much but I knew it was a little bit wobbly which is what you get with a medial ligament. I knew as soon as stood up I wouldn't be playing next week.''
He added: "The attitude of the guys around this morning sums up what the week is going to be about. You get excited by these sorts of challenges.
"That's the nature of test footy,'' he said of his injury. "I've probably been lucky over the years, I haven't missed too many really. I've got to say it's one I'd love to play in but it's just the way it is.''