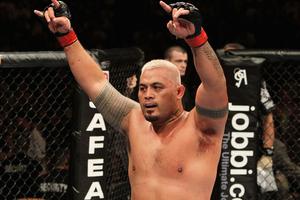 Kiwi mixed martial arts fighter Mark Hunt's next UFC bout will be in Brisbane on December 7 against Brazilian Antonio 'Bigfoot' Silva.
Rumours have swirled for the past week the two heavyweights would meet across the ditch when the UFC returns to Australia.
The bout was confirmed by the UFC today for the Brisbane Entertainment Centre and Hunt's long-time trainer Steve Oliver was pleased with the outcome.
"It's a good opportunity, it's better than we expected to be honest,'' Oliver told the Herald.
Hunt's last fight resulted in him being knocked out in the third round by Junior dos Santos at UFC 160 in Las Vegas in May, where Hunt suffered a broken big toe in the opening frame.
Following that bout Hunt needed a long lay-off as he also suffered a hematoma in his shin, which turned in to blood poisoning and resulted in plenty of time in the doctor's office.
There had been speculation the 39-year-old would match-up against another heavyweight of similar dimensions, the 1.83m and 118kg Roy Nelson, but Oliver said Silva was a better bout.
"Roy Nelson would have been a great fight but it wouldn't have pushed Mark up the ladder much. This guy's No 4 so I mean, potentially, if he knocks him over, he could be back in the money.''
Nelson is ranked the ninth contender in the heavyweight division and after the loss to dos Santos, Hunt dropped out of the top 10.
Not that the rankings mean too much to Hunt's camp.
"All I know is Bigfoot's No 4 and he's going to get his arse kicked,'' Oliver said.
Silva, 18-5 and 2-2 in the UFC, also fought on the UFC 160 card where he suffered a first round loss to world heavyweight champion Cain Velasquez.
At 1.93m and 119kgs, he represents a big challenge to Hunt, who stands 1.78m and tips the scales at 120kgs.
Hunt will return to New Zealand this week from his home in Australia and begin a lengthy camp with Oliver at his gym in West Auckland.
At 39 Hunt has plenty of miles on the clock, but before meeting dos Santos, Hunt enjoyed a four-fight win streak in the UFC and is 4-2 in the promotion and 9-8 for his career.
Fellow Kiwi Dylan Andrews, a middleweight who is based on the Gold Coast, knocked out Papy Abedi in the third round of their bout at UFC Fight Night 27 in Indianapolis last week and is also expected to be on the Brisbane card.
A third New Zealander, light heavyweight James Te Huna is also likely to be involved.
- APNZ