White-knuckle racing on board '10-million-dollar carbon fibre missiles' as Team New Zealand take first scalps in the opening races.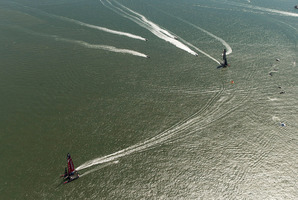 They might be at the helm of "$10 million carbon fibre missiles", but Team New Zealand trimmer Glenn Ashby was not surprised that neither Dean Barker nor Jimmy Spithill backed down when they came to close quarters.
The opening races of the 34th America's Cup finally delivered the high-speed, high-drama action promised by Oracle's Larry Ellison and Russell Coutts, the masterminds behind the event.
There was boat-on-boat action in the start-box, high-speed crosses upwind, and a couple of close skirmishes at the mark roundings. After an underwhelming Louis Vuitton challenger series, in which Team NZ were rarely put under pressure by Luna Rossa, we were beginning to wonder if, like monohulls, tight match-racing was a thing of the past.
But Ashby, who has sailed with both skippers, having been a part of Oracle Team USA's 2010 deed of gift challenge, said the aggressive, no-holds-barred approach in yesterday's opening races was about what he expected of the two skippers.
"I knew the starting would be pretty fierce, that's what these two guys do best. I think the rest of us as crews just have to hang on. But that's what makes the racing exciting - these two guys [Barker and Spithill] are at the top of their game and they're at the wheel of a $10 million carbon fibre missile," said Ashby.
While there were times when it looked as though the panel-beaters would be called into action on day one, Ashby insists he was never fearful that there would be a collision.
He said that while the high-powered racing machines were lightning fast, they could also decelerate pretty quickly if needed.
"At the end of the day [near-misses] are a part of this type of sailing. It's high-speed, it's good fun and these guys have to make decisions in split seconds."
Oracle Team USA may not have come away with any wins yesterday, but it was without a doubt a win for the AC72 concept.
Spithill said the thrilling, white-knuckle racing produced on day one of the best-of-17 Cup match proved that this was the direction the event should be headed.
"We've been talking about it for a long time, we think this is the way forward. It just feels like we're up there with the other sports now."