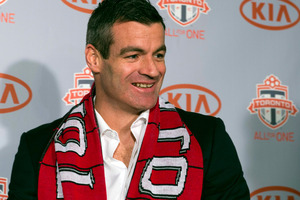 Rookie MLS coach Ryan Nelsen has received staunch support from the Toronto FC owners, following the sacking of the club's president this week.
After a tumultuous season in which they won only four games, Toronto parted ways with general manager Kevin Payne yesterday, but today made it clear that the incoming GM would have to get on the same page as rookie coach Nelsen.
''They have to respect our decision and our support of Ryan Nelsen,'' said Tim Leiweke, the president and chief executive of Toronto's ownership group, Maple Leaf Sports & Entertainment.
''That is the only restriction we will have on the general manager position, other than making sure they are on the same page philosophically with respect to how we are going to build a team here."
Leiweke said there were differing opinions between the ownership group and Payne about the direction of the struggling club - but felt they were on the same page as Nelsen.
"What I am certain of is that with respect to the way that we need to go as an organisation, Ryan sees the world exactly the way we do.
''I'm supportive of Ryan. He will be our coach next year.
''I think we have to go through a process of training wheels with a new coach. We have certainly done that and there has been a learning curve for Ryan, but I think that Kevin was right in that Ryan is going to be a good coach.
''He is on his way and as the season has gone along he has gotten better. I'm comfortable with Ryan and I believe he deserves a chance."
Tornoto FC are owned by the same organisation who own the Toronto Raptors NBA outfit and Toronto Maple Leafs ice hockey team.
Nelsen recently told the New Zealand Herald he loved the challenge of football management and it's likely he will see Payne's departure as another chapter in that.