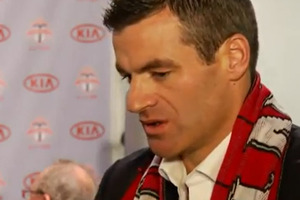 Kevin Payne, the man who handed Ryan Nelsen his first job as a football manager, has been sacked as Toronto FC president and general manager and it seems a breakdown of relationship with Nelsen was behind the split.
Payne, who oversaw four MLS titles during his time at DC United, was hired nine months ago to try to turn around an under performing franchise who had never qualified for the playoffs since their introduction into America's top league in 2007.
He surprised many by hiring Nelsen as manager despite the fact the former All Whites skipper was still playing for English Premier League outfit Queens Park Rangers and had no coaching experience or qualifications.
Toronto have continued to struggle this season, winning only four of 26 games and look out of the race for the playoffs with eight games remaining, but there is widespread acceptance the team has progressed under Nelsen.
The Toronto Star reported concerns around Payne's approach to chasing high-profile signings and relationship with Nelsen were key reasons for his departure and he lost the confidence of his bosses.
Tornoto FC are owned by the same organisation who own the Toronto Raptors NBA outfit and Toronto Maple Leafs ice hockey team.
"I'm disappointed, but this is the way this business works,'' Payne was quoted as saying in the Toronto Star. "I'm going to help the team through a transition period. I don't want to - I won't - turn my back on this club.''
The relationship between Payne and Nelsen reportedly deteriorated in recent weeks and the board considered letting Nelsen go as well.
"However, Nelsen was able to make the case that he understands the problems facing the team and has plotted out a solution combining big signings and low-cost trades,'' the Toronto Star reported.
Nelsen brought All Whites and Wellington Phoenix striker Jeremy Brockie on loan and has expressed an interest in getting Brockie back again either on loan or on a permanent deal.
Nelsen recently told the New Zealand Herald he loved the challenge of football management and it's likely he will see Payne's departure as another chapter in that.
"Every week your job is on the line and I love that kind of thing,'' he said last month. "I could get fired tomorrow ... that's life ... and that's why it's so much fun. The pressure and stress you go through, you know you're living life.''
- APNZ