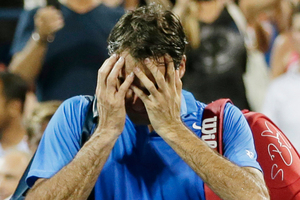 After crashing out in the fourth round of the US Open yesterday against an opponent who had never before beaten him, 17-time Grand Slam winner Roger Federer shrugged off any notion he might quit.
"I've definitely got to go back to work and come back stronger, get rid of this loss now as quick as I can, forget about it, because that's not how I want to play from here on," Federer said. "I want to play better. I know I can."
Federer fell to Spanish 19th seed Tommy Robredo 7-6 (7-3), 6-3, 6-4, dooming hopes for a potential quarter-final match with 12-time Grand Slam winner Rafael Nadal in what would have been their first meeting on the New York hardcourts.
Nadal is undefeated in 19 matches on hard courts this year after coming back to beat 22nd-seeded Philipp Kohlschreiber of Germany 6-7 (4), 6-4, 6-3, 6-1 and return to the US Open quarter-finals.
Federer won only two of 16 break-point chances and while he smacked 45 winners, including five aces, he also made 43 unforced errors, an underwhelming effort from a player who once dominated the sport.
"The story of my life - when I lose, people are shellshocked to see me play this way. If I win, it's the best thing," Federer said. "I can see that. But there's no doubt about it, I'm trying hard out there trying to make it work.
"Sometimes it just doesn't happen."
Federer had made 36 consecutive Grand Slam quarter-final appearances before being upset by Ukrainian Sergiy Stakhovsky in the second round at Wimbledon, having not departed a major before the last eight since the 2004 French Open.
This was the first year since 2002 that Federer has not made a Grand Slam final and the first year since 2003 that he failed to reach the last eight at the US Open.
"It has been a difficult last three months," Federer said.
"My consistency is just not quite there yet. Maybe on a daily basis, set-by-set or point-by-point basis, maybe that's something that has been difficult for me, so maybe that was one of the reasons I lost."
The five-time US Open champion has no plans on making major changes right away to his training regimen or match strategy, but searching for ways to make his game better, Federer said, promised to be an enticing challenge.
"Nothing goes past the hard work. I'll make sure I'll put the work in. Once I decide what that is, I'll believe in it and go after it. In some ways, as a player, you're always excited about that prospect because there's always something to look forward to, even in a big disappointment like the match today."
Top results
*4-David Ferrer (ESP) bt 18-Janko Tipsarevic (SRB) 7-6(2) 3-6 7-5 7-6(3)
*19-Tommy Robredo (ESP) bt 7-Roger Federer (SUI) 7-6(3) 6-3 6-4
*2-Rafael Nadal (ESP) bt 22-Philipp Kohlschreiber (GER) 6-7(4) 6-4 6-3 6-1.
- AFP