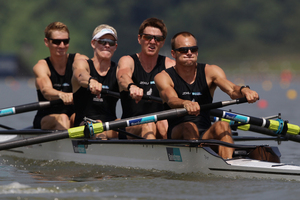 A silver medal to the men's lightweight four took Rowing New Zealand into new territory.

Curtis Rapley, Peter Taylor, James Lassche and James Hunter secured the country's first world championship medal in that class. Denmark beat them by 1.60 after leading throughout.

New Zealand cut the Danish lead in the third 500m but could not haul them in on the final stretch.

The women's double of Zoe Stevenson and Fiona Bourke also took silver, pipped by 0.04s on the line.

Coached by Dick Tonks, the New Zealand crew took the lead at the 1000m mark by 0.29s but relinquished it at 1500m by 0.17s.

Triumph escaped them when they were hunted down by the Lithuanians over the final 200m in a daunting surge.

Stevenson and Bourke sat on the jetty in shock for several minutes before making their way to the dais.

Single sculler Emma Twigg completed the New Zealand programme with silver, the best result of her career. She finished a length back from Australian Kim Crow.

Twigg's effort brought the New Zealand medal tally to one gold, three silver and one bronze. The minimum requirement of High Performance Sport New Zealand was four medals.

Men's double scullers Robbie Manson and Michael Arms finished last. They were unable to find the impetus to sustain their three World Cup victories in the wake of Arms' recent back injury.

Norway's combination of Nils Jakob Hoff and Kjetil Borch eased to victory with Hoff taking the opportunity to prop off his oar and stand triumphant in the boat.

Andrew Alderson travelled to South Korea courtesy of Rowing New Zealand and its principal partner Bankstream.