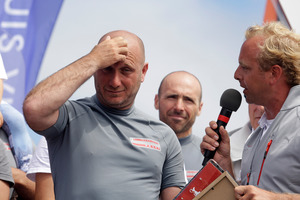 Regardless of the outcome in the jury room this week, the sorry saga of the Oracle Team USA cheating claims has already cost the team dearly, according to Luna Rossa skipper Max Sirena.
The two-week investigation into the team's conduct and subsequent jury hearings last week have served as a serious distraction for the defenders at a crucial time in their campaign.
It is rumoured a rift has developed within the team, as individuals within OTUSA are singled out over their role in effecting the illegal modifications to the AC45 catamarans.
Although there is no suggestion he is involved in any untoward activity, the stress of the last few weeks is certainly evident in the demeanour of skipper Jimmy Spithill, the usually bouncy and upbeat Australian looking tired and downtrodden in recent appearances.
Sirena said the on-going drama is certain to be impacting on the team dynamic.
"I see Oracle as being a little bit unstable especially with what is happening with all this AC45 thing, and I'm pretty sure when the jury comes out with a result it is going to make them less stable," said Sirena.
The Italian skipper, who has been involved with the America's Cup for more than 15 years, said in his experience protests and jury hearings can be extremely unsettling for a team.
Try as they might, it is difficult for the sailors to separate themselves from the politics that go on behind the scenes. Given the Oracle team are facing the threat of serious sanctions over what has been termed the biggest scandal in 162 years of the America's Cup, Sirena said this case will be even more of a distraction than most.
"One week from the Cup you want to be focusing on the sailing and try to refine the tools you have and the crew.
"Obviously something like that is a pretty big disruption because there will be an effect coming out from the jury decision and how bad and what penalties they get we don't know, but from experience I don't think it's going to be a soft result."
While the Oracle team are hunkering down and saying little publicly while the hearings play out, they were sighted on the race course yesterday, with one boat in action as they continue their preparations for the Cup match beginning this Sunday.
Oracle had first access to the racecourse followed by Team New Zealand and Luna Rossa, who are now training partners.