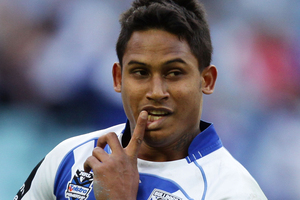 Canterbury has asked the NRL's integrity unit to investigate claims raised about their troubled and Brisbane-bound star Ben Barba today.
A Sunday Telegraph report claims Barba's relationship with the club soured over an allegation he punched a woman in the face in February in an early morning argument over another man and has been on the outer with some players and officials since.
The newspaper published a photo of woman's bleeding lip which it said she took after the alleged incident.
Barba, the 2012 Dally M Medal winner, was stood by the Bulldogs on February 25, with then chief executive Todd Greenberg citing unspecified behavioural issues.
The fullback subsequently spend two weeks in a rehabilitation centre and missed the first three rounds of the NRL season.
The Sunday Telegraph reported the alleged punch occurred a day before Barba was stood down and that the woman approached Greenberg and coach Des Hasler at Belmore Sports Ground to inform them.
It said the Bulldogs were adamant they handled the situation correctly, with the woman adamant she would not report the matter to police despite both Hasler and Greenberg encouraging her to do so.
"It is alleged Bulldogs officials attempted to put the woman in a car and take her to police,'' the report said.
"She allegedly asked whether or not Barba would be able to play football again if the matter was reported. When an official said ``no'', the woman said the incident never took place.''
With the woman refusing to take further action, Bulldogs officials had been confident they took appropriate action by standing down Barba and having him agree to extensive rehabilitation and counselling.
Barba has admitted to having a severe gambling problem as well as issues with alcohol.
Last month Barba sought and was granted a release from the club, saying he wanted to remain near his former partner and their two young daughters who were relocating to Queensland.
He subsequently signed with Brisbane.
The newspaper said Greenberg had fully briefed new Bulldogs CEO Raelene Castle on the alleged Barba incident before handing over the job.
And it said Brisbane were also fully informed and the Bulldogs had helped to pick the Broncos as Barba's next club because they had a well-regarded welfare program that would continue his care.
Castle was quoted as saying: ``The Canterbury Bulldogs are entirely comfortable with the actions we have taken and processes we have followed in relation to Ben Barba.
"As a club we have insisted he has participated in relevant rehabilitation and counselling programmes throughout the 2013 season.
"Having been fully briefed in relation to this complex and highly sensitive situation, I believe that the Bulldogs have acted with the utmost integrity throughout.''
On Sunday Canterbury issued a statement saying: ``The Bulldogs have requested the NRL Integrity Unit investigate allegations raised in today's media in relation to Ben Barba.
"The Club will offer comment once those investigations are complete.''