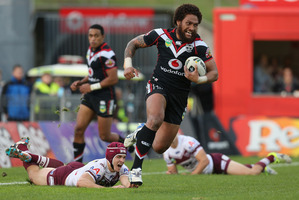 Despite his foibles, fragility and moments of frustration in 2013, the man whose opinion matters most thinks Manu Vatuvei has improved and will "only get better".
It's not unusual for coaches to back their players unconditionally in public and Warriors coach Matt Elliott is no exception - but it sums up the Vatuvei conundrum.
His critics, who have become more vehement over the past two seasons feel he is a liability; targeted on defence, slow to turn in pursuit of kicks and still prone to uncertainty under the high ball.
Meanwhile, his team-mates and coaches say he remains an asset like no other. A rock of the team on and off the field, a formidable presence on attack and one of the most damaging runners in the game.
He proved that last night with a stuning attacking performance - scoring three tries.
"What he does for his teammates just by being there ... by being in camp with us is pretty special, though it can be hard to explain," says Elliott.
"He has improved this year, especially with his defensive decision-making, and Manu is only going to get better as a player."
Somewhere in the middle lies the truth. By his standards, Vatuvei had a poor 2012; he made 38 errors (the third highest in the NRL), struggled on defence (though he wasn't Robinson Crusoe on that) and had long barren spells - by his standards - where he failed to find the tryline.
This year felt like a rebirth for a time, especially during the team's winning run. Vatuvei was all power and purpose, and seemed to be fitter and faster than he had for several seasons. There were stunning long range tries against the Roosters and the Broncos while in the victory over Manly his run from deep inside the in-goal - brushing off five defenders - changed the momentum of the match, at a time when the Warriors trailed 12-0.
Over the past month, however, the struggles have returned. He has looked uncertain and hesitant and one Australian commentator even uncharitably referred to his howler last week against the Titans, where the ball bounced from his chest into the arms of an onrushing attacker, as "another Manu moment".
Until last night recently there has been more mistakes than magic and he has looked frustrated.
"This season has not always been how I expected it to be," admits Vatuvei. "There are no excuses for a few of the games where I didn't play well. It just comes down to being consistent every week. It's something that I need to work on even harder, it's always something that I need to work on."
Like many of his team-mates, Vatuvei is a confidence player: If he's on, he's on, if not, watch out. But to his credit he always fronts up. More than most players his mistakes tend to be magnified and he comes under intense scrutiny but he rarely ducks the subject.
"I need to make sure I stay calm and focussed on what I have to do for the team, that is when I play my best," says Vatuvei. "If I think too much about the little things, it will keep getting worse and I will lose focus on what I have to do for the team. But if I have a bad game it doesn't take my confidence away like it used to, I can brush it off."
Vatuvei has scored 15 tries in 18games this season, with Konrad Hurrell (13 tries) threatening his status as the club's top tryscorer. He has also run for 1800m, behind only Hurrell and Kevin Locke in the backs and ahead of many forwards.
"Over the whole season he has been one of our best players, even before our [winning] run," says Elliott. "His form has been pretty consistent and people forget he always takes the tough metres. On our kick returns he invariably takes the play two carries, when no one else is back there, there are no decoys and he goes straight into the meat of them. I actually wasn't happy with him doing it too often but sometimes we need it and he just shows up."
Elliott concedes that the 28-year-old can come up with some costly errors but says it is part of the game.
"Out on the wing occasionally you are going to come up with your bad days, especially under the high ball. I don't know why everyone tends to highlight his mistakes. He has had a couple of tough days but I can't think of anyone who hasn't."
Despite his defensive frailties, it feels as if the team are as reliant as ever on Vatuvei. He generates forward momentum like no other player and he is still used like a seventh forward, which is why removing him from the equation has never been considered, by former coaches Ivan Cleary and Brian McClennan as well as Elliott.
A long list of players have occupied the right wing since 2005 but he has been a constant on the left flank for almost a decade. When Vatuvei is on he provides power and passion, week after week since his debut against the Rabbitohs in 2004.
Vatuvei has a fantastic tryscoring ratio (117 tries in 169 games) and is in the top five across the NRL among active players.
"It's an awesome feeling and you want it more and more," says Vatuvei of scoring. "[However] it gets more difficult, [the] defences are getting better. Back then I had a bit more time to get some speed up and beat my player. Now they come and cover you straight away. You need to find ways to get through."