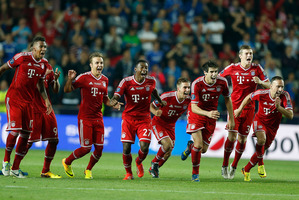 Goalkeeper Manuel Neuer saved a penalty by substitute Romelu Lukaku to give Champions League winner Bayern Munich a 5-4 victory over Chelsea in a shootout Friday to claim the UEFA Super Cup, after the game finished 2-2 following extra time.
Ten-man Chelsea looked on the verge of victory after Eden Hazard made it 2-1 in extra time but substitute Javi Martinez equalized with the last kick of the game to force the shootout.
All nine players converted their penalties before Lukaku stepped up, and Neuer dove to his left to keep the shot out.
Fernando Torres gave Europa League winner Chelsea an early lead with a fierce volley, before Franck Ribery equalized two minutes into the second half.
Bayern won its first Super Cup in the club's fourth attempt, earning a first trophy with the team for new coach Pep Guardiola.
-AP