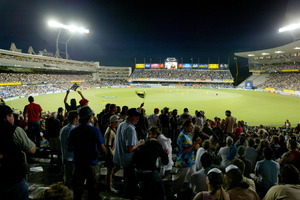 New Zealand supports the idea of playing day-night tests, but wants to tick several boxes first.
Cricket Australia has revealed plans to host a day-night test using a pink ball against New Zealand in late 2015, when New Zealand next cross the Tasman.
New Zealand Cricket is keen on the concept, sees plenty of upsides, but the proposal needs, in chief executive David White's words, to "go through a few hoops" first.
"We see a lot of merit in seriously looking at it," White said.
"We would have to trial it in New Zealand, and need to discuss it with the players. We want to make sure our players are comfortable with the concept and have the appropriate preparation."
Brisbane, Melbourne and Adelaide are to host Sheffield Shield first-class games under day-night conditions this summer. Brisbane and Adelaide are seen as the favoured venues to host a test under lights.
New Zealand are due to play three tests on that trip.
The pink ball has been through several stages of development and is much improved from previous versions.
There is also a commercial angle for New Zealand should its studies show there is the chance of hosting a day-night test in this country.
The time zone difference with the Northern Hemisphere, and particularly the lucrative Indian market, means playing effectively in the same hours as day-night one-day internationals could have strong financial spinoffs.
NZC's main challenge, assuming the ball proves a success, and there are no lighting issues, is finding a venue, and time during the season, which is least affected by early-mid evening dew. NZC is yet to do those checks.
CA has been exploring day-night tests for several years with concerns over how to keep test cricket as a public attraction.
The popular Boxing Day and New Year's Day tests, usually staged in Melbourne and Sydney respectively, remain strongly supported. However, that's not the case elsewhere at other times in the Australian summer.
"A lot of test cricket takes place when people are at work and kids are at school. If those matches could be played as day-night matches, they could come in after work and the television experience is there," said CA CEO James Sutherland.
He said there might need to be some tinkering, but "for the sake of the game and of growing audiences we need to see through some of the reasons why not".
NZC is advertising for a replacement for the departed Australian John Buchanan as general manager high performance this weekend. The successful candidate is expected to be announced in about a month.