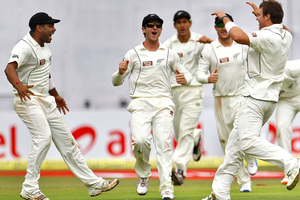 New Zealand are in line to take part in cricket's first day-night test.
Cricket Australia are eyeing New Zealand's trip across the Tasman in the 2015-16 summer as the time to launch their plan to turn on the lights for five-day matches.
New Zealand are due to play three tests on that tour.
CA are holding a round of Sheffield Shield first-class games under lights in the coming season, with Victoria, South Australia and Queensland the venues. They are considered the most suitable locations to trial day-night matches. Adelaide Oval and Brisbane's Gabba are understood to be the favoured venues for the first day-night test.
A pink Kookaburra ball will be used after improvements in manufacturing have hopefully produced better quality, longer lasting balls. Visibility and durability of the balls have been the largest hurdles to day-night first-class cricket, along with dew on the ground.
The hours of play are expected to be similar to day-night one-day internationals, with the entire final session to be played under lights.
"My feeling is they are very open to it," CA chief executive James Sutherland said of New Zealand Cricket's attitude towards the idea.
He said CA are highly motivated by the need to make tests more attrractive.
"A lot of test cricket takes place when people are at work and kids are at school and it's difficult to attract people. If those matches could be played as day-night matches they could come in after work and the television experience is there."
CA has long been a fan of exploring day-night tests and last year the International Cricket Council gave approval for it.