With Bond and Murray's final to come, New Zealand are still poised for multiple medal return in Korea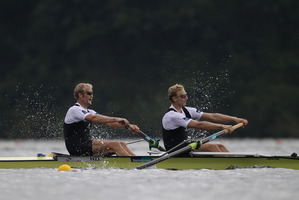 Olympic champion Eric Murray says there should be no references to "bad luck" or "surprise" that seven New Zealand crews out of 10 have missed finals so far at the Rowing World Championships.
Four more crews - the men's and women's doubles, the men's lightweight four and single sculler Emma Twigg - race semifinals today. All are expected to progress. That would give New Zealand a 50:50 split of finalists across its 14 crews; still an excellent return by international standards.
Murray says when the crews left home, the results - through Rowing New Zealand's in-depth analysis programme - could be predicted.
"Our team has a great system of racing each other and therefore getting results relative to each other.
"What we were doing back in New Zealand has been reflected in what has happened here, like with the quads and the men's four [missing out]. That's the way New Zealand rowing works. We know how we're going to go. It's not like we turn up and go 'Aw, we'd like to make the final'.
You should already know if you can or you can't.
"For instance [through the analysis programme] Hamish [Bond] and I know we should be able to win. It's not like we're sitting here saying we need luck, a good tailwind or not to be racing this or that crew. You know you can be world champions before you turn up."
Murray is thriving on their unbeaten run. It will extend to a record 16 straight international regattas if they win a fourth world championships together as a pair tomorrow.
Is there anxiety at the prospect?
"Nah, I don't worry about it. We've almost been caught short a couple of times and sometimes we'd love to go out and just paddle the course without pressure or expectation but we've also thrived on that.
"We want to see how long we can stay unbeaten."
The pair won their semifinal by a convincing 3.58s over second-placed France. After establishing a lead of a length by halfway, they maintained and then extended their advantage through to the finish.
"When a tailwind picked up we huffed a bit because they tend to bring fields closer together. We knew the French would probably try something. I hate using the term but they're unpredictable, just like the French rugby team.
"Crews like that try to pull things out of the bag every now and again. You do not discount them for any reason; plus we're not as fast over the first 500m this season due to a lack of time in the boat [only six to seven months].
"We just tried to establish ourselves and set a pace no one else could sustain. There was no point going into the overdrive which we know we can produce."
The women's pair of Rebecca Scown and Kayla Pratt and lightweight double of Lucy Strack and Julia Edward produced comfortable third-place finishes to progress.
Lightweight single sculler Louise Ayling missed a place in the final, finishing fifth.
Mahe Drysdale withdrew from the men's single sculls C/D semifinals because of the rib injury he aggravated during his quarter-final exit. He was unable to move his right arm freely as a result. It's the first time he has withdrawn from a regatta.
A typhoon swept through the region yesterday afternoon. Racing is expected to resume as normal today but organisers are on alert for any debris swept into the lake from nearby hills.