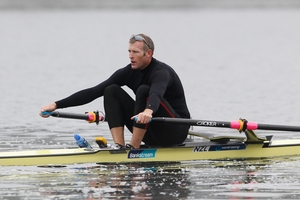 Olympic champion Mahe Drysdale has been ousted from the single sculls at the rowing world championships.
Drysdale was second through the 1500m mark in one of the tougher quarter-finals but could not muster his customary sprint when required.
He was eclipsed by Azerbaijani Aleksandar Aleksandrov and Bulgarian Georgi Bozhilov over the final strokes. The top three qualified for Friday's semi-finals.
The race was won by German Marcel Hacker.
Drysdale's hotel room had been turned into a secret rowing lair before the race with a wind trainer after he collided with a light truck on his bike last week.
He escaped serious injury but a sore rib had plagued his effort as he sought to regather the rowing fitness he lost during his sabbatical.
The 34-year-old had still ventured out for practice rows to acclimatise to South Korea's humid conditions.
Earlier the women's eight finished third behind Britain and the Netherlands in the repechage and missed out on the final by 0.85s.
Andrew Alderson travelled to South Korea courtesy of Rowing New Zealand's principal partner Bankstream