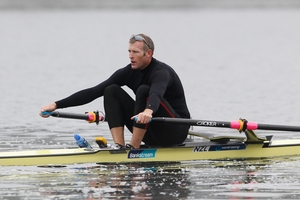 Mahe Drysdale's hotel room has been turned into a secret rowing lair as he campaigns to win an unprecedented sixth world championship single sculls crown.
The Olympic champion has even ceased leaving his barracks to ride on South Korea's roads after colliding with a light truck last week. A wind-trainer has been set-up at his HQ instead, presumably with towels liberally dotting the floor to prevent a brine-soaked carpet.
The 34-year-old has been venturing out for practice rows to acclimatise to South Korea's humid conditions but otherwise it's back to the familiar eat-train-sleep routine as he attempts to regather the rowing fitness he lost during his sabbatical.
His time away ended with third at Amsterdam's Holland-Beker regatta in late June.
He bowed out of the last eight at the Henley Royal Regatta the following week to Aleksandr Aleksandrov of Azerbaijan by four and a half lengths.
As a gauge, Aleksandrov finished fifth at the Olympics.
At that point Drysdale knew the physical anguish he would need to endure to medal at the world championships.
"I haven't done much training and it affected me," he said at the time. "I didn't do as well as I would have liked. If I can find 12 seconds over 2000m, I'll be confident of getting back among the medals."
Drysdale's break from rowing training to race an ironman, endure the coast-to-coast and climb Mt Kilimanjaro took its toll.
Today's quarter-final will offer an indication of whether his training regime has been successful.
The top three in each race qualify for Friday's semifinals.