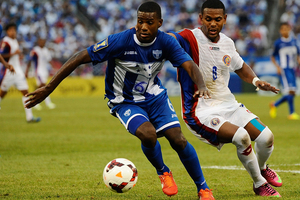 The Wellington Phoenix second Costa Rican signing of the offseason is keen to use his time at the A-League club to help his case for playing at next year's World Cup in Brazil.
Pacey striker Kenny Cunningham arrived at the club yesterday to begin a two-year contract in Wellington.
Cunningham was a starting member of the Costa Rica side in the recent CONCACAF Gold Cup, and has helped his country to second place, behind the United States, in the CONCACAF World Cup qualifying series.
The 28-year-old is keen to impress in the A-League and add to his 10 international caps saying he was rated 50-50 to be named in the Costa Rican squad for their final two qualifying games.
"I want to go to the World Cup, that is the dream of every player.
"I hope Costa Rica qualify to the World Cup. It's a little difficult. We have to win two games and will know in September if qualify to the World Cup."
Cunningham first came to coach Ernie Merrick's attention through fellow Costa Rican Carlos Hernandez who also joined the Phoenix this season.
He said Hernandez was beginning to fill him in on what to expect during his time in New Zealand but admitted he didn't know much about the club or Wellington and the capital's latest spate of earthquakes.
"Not so much. What Carlos has told me (previously) and today he told me more. Carlos spoke very good of the club. Beautiful city, a good team and new coach."
Hernandez, who was named A-League's best player in 2009-10, said he was "very happy" to have another Costa Rican in the team, which was a first for him.
Merrick said that Cunningham was a fast attacking option who will compliment his other forwards in Stein Huysegems, Paul Ifill, Jeremy Brockie and also Hernández, who he will be hoping links well with his countryman.
"He's a very fast attacking striker who plays predominately on the wing, who comes in also and adds pace to our forward line," Merrick said.
"I haven't had a chance to really converse with him but he hasn't kicked a ball for nearly four weeks and hasn't done much training so he's going to ease into it very gradually. We've got 11 weeks until the season starts so I'm glad we've got him now so we can build up to the start of the season.
With Cunningham on the verge of the Costa Rican squad and Hernandez keen to make it back to the international fold, Merrick isn't fazed by the prospect of losing more players during the FIFA international windows throughout the season.
"The international calendar will always affect A-League teams and the Phoenix worst of all...it's something we have to cope with and that's why we've got to have good depth in our squad and not just restrict ourselves to a first XI."
- APNZ