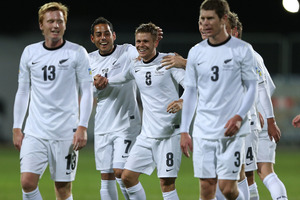 The All Whites will take part in the OSN Cup 2013 in Saudi Arabia in September as preparations continue for the final stage of FIFA World Cup qualification, the Intercontinental playoff, in November.
The four-team tournament, involving Saudi Arabia, Trinidad & Tobago, UAE, and New Zealand is to be held at King Fahd International Stadium, Riyadh, Saudi Arabia.
As first reported by the Herald, the All Whites will play Saudi Arabia on September 5 in the semi final, and will play either UAE or CONCACAF opponents Trinidad & Tobago on September 9.
Coach Ricki Herbert will use the tournament as preparation for the Intercontinental playoff in November.
"It's important to maximise the time between now and November. These games give us another opportunity to bring the team together in testing conditions." said Herbert.
"International football is always difficult no matter where you go and to play in the Middle East is tough.The pace and technical ability of all teams at this tournament will be high and that will certainly test us."
"It is a real priority for us to work on the systems that we feel can give us the best possible chance in November and that will influence how we play in this tournament," continued Herbert.
New Zealand are currently ranked 57th in the FIFA World Rankings with Trinidad & Tobago in 78th, UAE in 84th and Saudi Arabia 107th.
The All Whites squad for the OSN Cup 2013 will be named later this week.
OSN Cup 2013 Tournament Details
Thursday September 5
Saudi Arabia v New Zealand, King Fahd International Stadium, Riyadh, Saudi Arabia, 6:15am NZT
UAE v Trinidad & Tobago, King Fahd International Stadium, Riyadh, Saudi Arabia, 3:45am NZT
Monday September 9
3rd Place Match, King Fahd International Stadium, Riyadh, Saudi Arabia, 3:45am NZT
OSN Cup 2013 Final, King Fahd International Stadium, Riyadh, Saudi Arabia,, 6.15am NZT
- APNZ