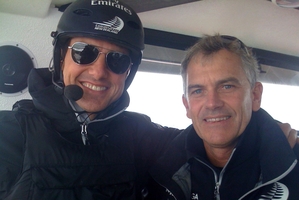 If Team New Zealand manage to bring the America's Cup back to Auckland, one of the little-known heroes will be an American and a former Oracle team member.
It's not overstating matters to suggest that designer Pete Melvin is the father of the AC72s, the blisteringly fast catamarans of the 34th America's Cup.
Even more surprisingly, Melvin - a sailing coach for Oracle racing before becoming a multi-hull design guru - is the man who played a major role in designing the wingsail for the giant 90ft trimaran, known as BOR 90; the yacht which won the Cup for Oracle in 2010 in a deed of gift showdown against Alinghi's giant catamaran.
Oracle Team USA hired Melvin and his company, Morrelli & Melvin, to come up with the initial concept and then co-write the class rule for the AC72s. His partner, Gino Morrelli, had been involved in Dennis Conner's Stars & Stripes, the catamaran which ended New Zealand's Sir Michael Fay's "big boat" challenge in 1988.
Almost incomprehensibly, Oracle then let him go. Team NZ made an offer and Melvin is in San Francisco with the Kiwis' huge design team as they work on enhancements to make their AC72 go even faster. This Cup campaign has been a design-led effort, with the New Zealand team reaping the benefit of designing, evolving and sailing their prototypes the most effectively of all the teams.
"It wasn't too much of a surprise," says Melvin of his departure from Oracle. "We were design consultants; they had a big design team and I guess they just didn't want that big a team - so it sort of makes sense, I guess."
Other teams have followed Team NZ's lead. Foiling - the art of lifting these 7-tonne beasts out of the water so their hulls fly clear, reducing drag - is now a key feature of this regatta.
Artemis chose a non-foiling path and paid the price - their second boat, after the fatal capsize, still had a lot of design changes to be made and they were late getting on to the water in the Louis Vuitton regatta. Oracle also set up their boat differently and capsized last year, costing them time, confidence and a new design road to be navigated.
"Even in our own team, we had quite a debate about it [foiling]," says Melvin. "I guess some teams first thought they wouldn't be able to achieve stability and would just be wasting a lot of time."
It hasn't all been plain sailing. The 34th America's Cup has attracted volleys of criticism, some landing on the decks of the AC72s. "The Boat That Could Sink The America's Cup", one glib magazine headline read. Too expensive, too dangerous, too difficult to sail, too prone to breakages, say some.
But designers do not set the brief. That came from Messrs Coutts and Ellison who coined the now infamous analogy of breaking the sport and the event away from the "Flintstones generation" and take it to the "Facebook generation". They wanted speed, thrills, racing close to shore so spectators could see, they wanted boats which could race in 5-33 knots of wind so there wouldn't be races postponed by winds too strong to sail in, and they wanted cameras and microphones on the yachts and other media tricks to bring the living room audience on board too.
In just about all aspects, they failed. But it hasn't been the fault of the AC72s. The giant, 72ft catamarans have provided plenty of speed. There have been some thrills, muted somewhat by the death of Artemis crewman Andrew Simpson in May - a tragic accident which cast a pall of caution over this regatta.
Wind limits were reduced for safety reasons - galling to team NZ whose boat is capable of racing in much stronger winds than permitted in San Francisco. While the on-board camera and sound action is compelling, it would be even more so if there had been more challengers at this regatta. There have been more weather delays and fewer races than previous Cup regattas.
The AC72s have taken a fair bit of that criticism. But, as Oracle CEO Sir Russell Coutts and Team NZ boss Grant Dalton both agree - the major cost of the US$100m-plus campaign is not the US$10m boats but the people that sail, maintain and develop them.
As for the breakages that have plagued some recent races, this is common for a new class of America's Cup boats. It takes time and racing conditions to iron out the kinks when new boats are put under pressure. It doesn't mean the boats are flawed; it means more time is needed to sail them and set them up to best advantage.
So what now? The America's Cup match is fast approaching; more than likely an Oracle v Team NZ struggle and the man who pretty much invented the AC72 thinks foiling upwind will be a part of the Cup finals.
He says teams are experimenting cautiously "as they don't want to spend too much time chasing rainbows. We are experimenting with it, so are Oracle and even Luna Rossa and we are making some ground."
Team NZ tactician Ray Davies was more gung-ho yesterday: "It's almost routine now; yes, I'd expect it to play a role in the Cup match."
Melvin stands by the AC72 even though it has earned a bad name by association with this regatta. "I'm probably the wrong guy to ask but if you ask the sailors and designers on all the teams, I think they are quite happy with the performance of the boat."
Davies does better than that: "They are really exciting. All of us in the crew know they might not be around forever so we are really enjoying sailing them while they are here. They are exhilarating. We are enjoying them while we can."
When it's all over, the AC72s are widely expected to become instant US$10 million pieces of junk, which naturally disturbs co-creator Melvin.
"I think the overall concept is still valid and we'll see some closer racing in the America's Cup itself. It's getting closer now. Luna Rossa, for example, is doing far better now than at the start of the regatta.
"I think we could still use them [in future regattas]. There are five or six boats existing already so there is a base there for us to use to scale things down."
That, Melvin believes, is the next step if anyone wants to use these flying catamarans (or a derivative form) in a subsequent Cup regatta. That, and fleet racing, when all the yachts do battle at once rather than one-on-one.