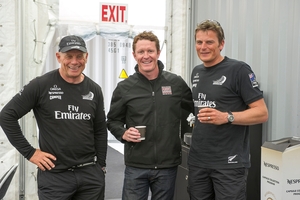 Kiwi IndyCar ace Scott Dixon made a pit-stop at the Team New Zealand base in San Francisco yesterday to check out how the team are shaping up as they close in on a spot in the America's Cup final.
The Target Chip Ganassi driver was in the Bay area doing store appearances ahead of this weekend's GoPro Grand Prix in Sonoma, about an hour's drive from San Francisco and stopped in at pier 30-32 to look around Team NZ's operations and to meet the crew.
Racing super high-tech catamarans capable of flying above the water at over 40 knots, the new era of the America's Cup sailing has captured the attention of speed enthusiasts like Dixon.
Some of Dixon's rivals have also had an up-close look at the racing machines, with three-time Indianapolis 500 winner Dario Franchitti visiting Oracle Team USA's base last week. America's Cup organisers reportedly tried to arrange a "race" with Franchitti aboard Oracle and Dixon aboard Team NZ, but trying to get the two syndicates to agree to anything thus far in the event has proved futile.
As the Cup match draws near tension and distrust has spiked even further, particularly after allegations the US team cheated during the America's Cup World Series. Several members of the Oracle team will front a hearing with the international jury next week to determine whether any penalty will be imposed.
Team NZ will be back out on the water against Italian team Luna Rossa today with one race scheduled for the reserve day.
Provided there are no further delays, Team NZ will have the opportunity to wrap up the Louis Vuitton finals tomorrow. However, the forecast is not looking promising, with winds of up to 30 knots predicted - well above the limit of 21 knots.