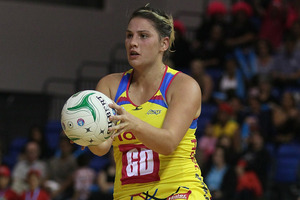 Two new caps will bolster the Silver Ferns squad as they prepare to defend the Constellation Cup against Australia next month.
Defender Te Huinga Reo Selby-Rickit and mid-courter Courtney Tairi are the new names among the 12-strong squad, while Joline Henry has won an expected recall following a one-year absence due to pregnancy.
Kayla Cullen is unavailable for the team until a full medical assessment has been made on her injured knee by Netball New Zealand medical specialists. Cullen suffered the injury while preparing for the World Youth Netball Championships with the New Zealand under-21 team in Scotland.
The national selectors have opted for extra cover by promoting national accelerant squad member and Southern Steel mid-courter Shannon Francois to the wider squad of 15.
Silver Ferns coach Waimarama Taumaunu said the squad of 15 players will all get game time across the international season this year, with Malawi touring New Zealand for three tests in October.
"The 12 players selected have been chosen for the five test matches against the Australian Diamonds for the Constellation Cup,'' she said.
"With such a busy international calendar ahead, we fully intend on using the whole squad of 15 players in the next few months, especially with the three tests against Malawi in October, the Fast5 Netball World Series in November and the Silver Ferns' tour of England in January.''
The first match against Australia for the Constellation Cup is on September 15 in Invercargill.
Silver Ferns squad for the Constellation Cup: Casey Kopua (c), Laura Langman (vc), Jodi Brown, Leana de Bruin, Katrina Grant, Joline Henry, Cathrine Latu, Camilla Lees, Courtney Tairi, Maria Tutaia, Te Huinga Reo Selby-Rickit, Irene van Dyk.
- APNZ