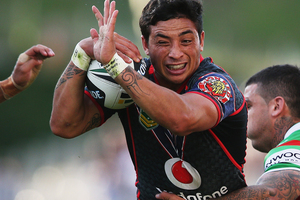 A lot has been learned about the Warriors over the past couple of months, good and bad, and it's also been highlighted why the club have moved to sign England fullback Sam Tomkins.
At his best, Kevin Locke is one of the best fullbacks in the NRL and has natural talents others can only dream about.
He is a quick and dangerous runner who is good in the air, can attack from anywhere, break the line and sidestep his way out of trouble.
Locke has even shown a braver side to his game, which wasn't always in evidence earlier in his career.
His best, however, isn't always on show and it's his inconsistency which illustrates why the Warriors have chased Tomkins. Glen Fisiiahi is another who is sporadic, whose difference between his best and average game is too great.
Fullback is such a crucial position, perhaps the most important, and fullbacks need to have not only x-factor but also be consistent.
Good halves and hookers are also crucial but there's not a lot they can do if their forwards aren't giving them front-foot ball and they aren't afforded the time and space fullbacks enjoy.
For a period this season, Locke ran for more than 100m for six consecutive games and he broke the line or popped up on the shoulder of some of his big men. Last week against the Panthers, he ran for a dismal 37m in a disappointing 80-minute performance.
Statistics aren't everything but this reveals a lot, especially when fullbacks are gifted a lot of metres merely by running the ball back from kicks.
Earlier this year, Locke seemed to be motivated by the talk about Tomkins, as if to prove to the club they were wrong to chase another fullback. It was a terrific response to a difficult situation and, while it's not easy to be reminded constantly the club want someone else, it should act as great motivation throughout the entire season.
After all, he has a case to make if he wants to earn a starting position somewhere else next season, whether it's on the wing or in the halves.
There are no guarantees Tomkins will set the NRL alight at the Warriors - it's still not confirmed he's coming although the signs are extremely promising - but most are convinced he will be a success.
He was last year's Man of Steel as the Super League's best player and this season the 24-year-old has continued his hot form with 33 tries in all competitions. Overall, he's scored 101 tries in 114 Super League games.
He is such a vital member of the Wigan side that they have won only three of the last 12 games when he's been absent even though they have been one of the UK's leading clubs over recent seasons.
It's not entirely clear what is holding up the announcement about Tomkins signing for the Warriors, other than to say it's at the Wigan end as they presumably find a way to soften the news to fans who expected their fullback to be around the scene for some time to come - in 2011 he signed a new five-year deal worth 300,000 a season.
The Warriors will need to shell out some significant money to secure Tomkins but he might just be worth it.
- APNZ