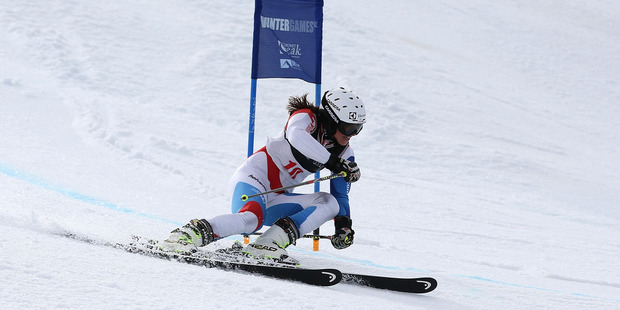 World No 52 Wendy Holdener proved the quality act in the field to win the women's giant slalom at the Winter Games on Coronet Peak today.
The Swiss racer was third after the first run, with a 55.09 seconds, behind 21-year-old Christine Scheyer of Austria and American Megan McJames.
However Holdener did enough to win the second run in 55.79s to post a combined 1min 50.88s, good enough for the gold.
Scheyer, ranked No 114. slipped to third on the second run, while Russia's Anastasia Romanova jumped from fourth to second to take the silver.
"The first was not so good, the second was better," Holdener said.
"It's a good feeling, the race was very tough, very bumpy."
Fifty racers finished the course out of the 73 who started the event, the largest women's field seen at a Continental Cup in New Zealand for many years.
Piera Hudson was the best finisher among the New Zealand entrants, taking 33rd in 1:56.64.
The men's and women's slalom races are due to be contested at Coronet Peak on Wednesday.
Results
Women's FIS ANZ giant slalom:
Wendy Holdener (Switzerland) 1:50.88 1, Anastasia Romanova (Russia) 1:51.30 2, Christine Scheyer (Austria) 1:51.43 3, Megan McJames (US) 1:51.45 4, Stephanie Brunner (Austria) 1:51.74 5, Stephanie Resch (Austria) 1:52.26 6, Kate Ryley (Canada) 1:52.40 7, Monica Huebner (Germany) 1:52.44 8, Denise Feierabend (Switzerland) 1:52.66 9, Ricarda Haaser (Austria) 1:52.67 10. Also: Piera Hudson (NZ) 1:56.64 33.