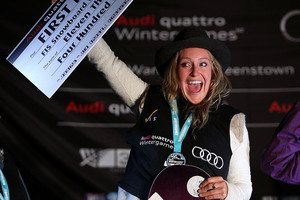 Classy American Jamie Anderson turned on a scintillating display to win the Winter Games World Cup slopestyle final at Cardrona today.
The weather has played havoc with the event over the last three days - including forcing the cancellation of the men's slopestyle - but Anderson provided a ray of sunshine with her display, which earned her a score of 94.75, over seven points better than second-placed Briton Jenny Jones.
Dutch competitor Cheryl Maas took third with 80.50, while New Zealand had a presence in the final, in Christy Prior.
She had qualified fourth best and her second run in the final was looking promising until the last kicker, when she failed to land her jump cleanly. Her first run score of 61.75 was good enough for seventh.
World No 4-ranked Anderson's first run was so good that by the time she set off for her second, she had the win sewn up.
"Today has been just wonderful," Anderson said.
"I just wanted to land a run and do well but I wasn't totally obsessed with winning. All of us had to deal with the weather, which was quite challenging, but we all rode really well and I'm really happy with myself."
Four other New Zealanders failed to make the final. World No 9 Shelly Gotleib was 22nd, Rebecca Torr 26th, Steffi Luxton 33rd and Jasmin Gallop 42nd in the field of 48.
Slovak brothers Adam and Andreas Zampa grabbed first and third spots in the men's giant slalom at Coronet Peak.
Adam Zampa recorded a winning combined time over his two runs of 1min 46.93s, .20s ahead of American Mark Engel, with Andreas Zampa clocking 1:47.49, just .03s ahead of Swiss Daniele Sette.
New Zealand's Ben Griffin finished fifth, having sat third after his first run. Chasing a quick second run, he fell at the third last gate, but recovered to finish in 54.96s, giving him a combined score of 1:47.66.
"Gutting," Griffin said.
It was a personal best result for Griffin, which will lower his world ranking from 212 and help his Sochi Olympic selection cause.
"I'm obviously pleased to have a personal best result but it was gutting to fall so close to the finish.''
Fellow New Zealanders Nick Prebble and Adam Barwood were 14th and 21st respectively.
The women's giant slalom will take place at Coronet Peak tomorrow.