Councillor says use of Fifa money by Oceania will transform unloved part of reserve.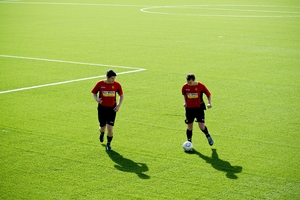 Football's governing body is to build a multi-sports complex with artificial fields and an indoor arena in return for a 30-year lease on an East Auckland reserve.
The pitches - one of them to be international standard - will be available for community use up to 75 per cent of the time when not needed by the Oceania Football Federation, which is part of the international body Fifa.
Auckland Council has approved the lease to Oceania of a site on Ngahue Reserve in St Johns - between the Tennis Auckland Centre in Merton Rd, the Auckland Netball Centre and Colin Maiden Park.
The site is an old landfill, with bare rock, mounds of earth and weeds.
But it will be landscaped by Oceania as it develops two artificial playing turfs, a practice turf and buildings for futsal, changing rooms and administration.
The staged development of the complex within five years is estimated to give a community benefit of $15 million.
"And it's not costing ratepayers anything," said Orakei Local Board chairwoman Desley Simpson.
Auckland Council will handle community bookings.
Eastern Suburbs Football Club chairman Chris Ruffell said the spare time in the development would be good for community sports, including his club and Ellerslie AFC.
Councillor Cameron Brewer said the use of Fifa money by Oceania would transform the reserve into a sports hub near the growing suburb of Stonefields.
It added to the argument for Auckland Council to buy the 19ha Colin Maiden Park from Auckland University to keep it a public open space, said Mr Brewer.
The council has first option to buy the university's home for cricket and rugby now it is quitting its Tamaki Campus in favour of developing the former Lion Breweries site in Newmarket.
The council bought Liston Park in Ellerslie for $10.3 million in 2010.
Oceania will use the complex from late January until early April for its development work with players of Pacific Island nations. It will hold international events and technical courses and seminars.