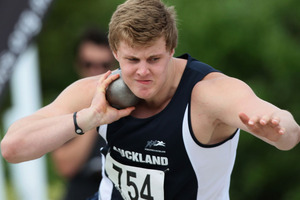 Jacko Gill has the Commonwealth Games in his sights after he broke the world junior shot put record at the Millennium Track on Auckland's North Shore today.
The 18-year-old produced a 23m effort with the 6kg shot to pass the previous mark of 22.73m that was set by German David Storl, who only two days ago, retained his world senior championship title in Moscow.
Gill has been troubled by a foot injury and a couple of other niggles this year but shook off his concerns to complete a clean sweep of the world age-group records.
"I gave up a lot for this record [like last year's] Olympics and it maybe doesn't mean so much to other people but it means a lot to me because I've now got all the world age-group records,'' Gill said.
"I've trained for two years pretty much consistently with the 6kg shot to get this mark so it really does mean a lot to me.''
Now he will turn his attention to the Commonwealth Games in Glasgow next year.
"Commonwealth Games means a lot to me so I really want to do New Zealand proud there and get a medal.''
Gill will likely look to meet the qualification mark for the Games with the 7.26kg senior shot in December and didn't rule out attempting to add to his junior mark with the 6kg implement in the next few months.
Gill's is the second world junior record held by a New Zealander. Javelin thrower Gavin Lovegrove held the world under-20 javelin record for a short time in 1986.
- APNZ