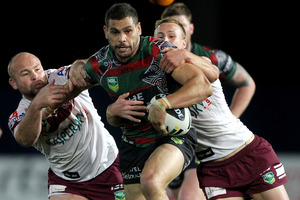 Unfortunately, the nature of knockout football is that we reward mediocrity by giving weaker teams a second chance.
If the Souths-Manly game on Friday night was a taste of what's in store for the NRL play-offs, then we're in for a treat.
Similar to their first round encounter, these two teams battled it out and did not relent until the final whistle.
The result was clear in the end but it took desperation of grand final proportions for Souths to hang in until the tide turned their way.
What is more evident to me is that the current top four are far better than the rest, and the grand finalists and winner will come from this group.
In recent weeks, these teams have performed at a consistently high level; enough to overcome those positioned below them.
The top four's points differentials display both their attacking and defensive prowess, whereas the nine teams scrambling for the last four spots exhibit defensive frailties which will not be good enough to beat the Roosters, Rabbitohs, Sea Eagles or Storm.
Some teams have at times asked questions of the top four but most people would have to agree with my assessment.
I understand passionate fans of the other sides left in contention will argue their team is capable of beating the top four.
They're right but this close to the play-offs and given the history of teams with form leading into September, such sides will need more than recent form.
It's also said of the top four that they need their stars to have any chance; for example, Melbourne and their 'Big Three', Souths with Greg Inglis, the Roosters with Sonny Bill Williams, James Maloney and Mitchell Pearce, and Manly with their halves.
But every other team also needs their best players on the pitch and in form if they want to beat the top four, even when the top four are minus their stars.
It's true the play-offs are basically a new competition; anything can happen and upsets are possible.
But in all fairness, the consistently good sides, which the top four are, should be the ones featuring on grand final day.
Unfortunately, the nature of knockout football is that we reward mediocrity by giving weaker teams a second chance.
Sides that have been inconsistent all season have four weeks to become the ultimate winner and have it set in stone that they are officially the 'best team in the competition'.
I've never been able to get my head around that one but it's our sport's format and we will continue to live with it.
My message to those outside the top four is get on your knees and hope some wishes come true if you want to claim the title.
You're going to need a lot of hope to win this year.