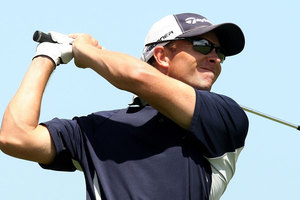 Manawatu professional Tim Wilkinson remains in contention to win his first title on the Web.com Tour at the News Sentinel Open in Tennessee.
The 35-year-old, who opened with a six-under par 65 to share the lead, slipped back two places to tied for third after carding a one-under par 70 in round two at the Fox Den Country Club in Knoxville overnight.
He will begin round three two shots back from American Blayne Barber and Canadian Richard Scott who lead on a nine-under par two round total.
Wilkinson is currently ninth on the money-list and preparing to return to the PGA Tour for the first time since 2009.
The former Eisenhower rep is looking for his first win on the Web.com Tour this season after recording nine top 15 finishes.
Wilkinson is trying to win the Web.com Tour Order of Merit. He needs to overtake runaway leader American Michael Putnam who has won twice this season. Wilkinson is the most consistent player on the Web.com Tour without a victory in 2013.
Finishing No 1 on the money list brings two added perks - the top spot in the Web.com graduating class, exempt from the quarterly reshuffle in priority status, as well as a berth in The Players Championship.
Meanwhile, Steven Alker has fought back well to restore his chances of returning to the PGA Tour for the first time since 2003.
The 42-year-old Hamilton professional, who began slowly in Tennessee with an even par 71 to be in a share of 84th place, climbed 50 places when he carded a four-under par 67 in round two.
It was an incredibly important turnaround for Alker who is currently 22nd on the order of merit.
There are two events remaining on the Web.com Tour season (including this one) and Alker needs to remain inside the top 25 to automatically qualify for the PGA Tour in 2014.
- APNZ