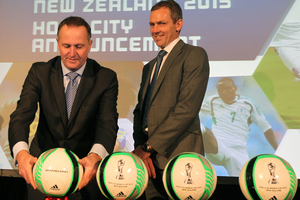 North Harbour Stadium will host the final and one of the semi-finals of the 2015 Under-20 Football World Cup - the second largest event that Auckland has had a role in hosting.
The tournament will be spread over seven cities, with Whangerei, New Plymouth, Dunedin, Hamilton and Wellington the other venues.
In addition to the final, North Harbour Stadium will also host four pool matches, a quarter and semi final, the bronze medal playoff and both the opening and closing ceremonies.
Christchurch will stage the second semi final, while it appears Wellington has missed out on the big games, with one quarter final and two round of 16 matches the only knockout fixtures in the capital. Napier has missed out completely.
"In 2015, the focus of football fans around the world will be on New Zealand, with Auckland playing a big part," said Auckland Mayor Len Brown.
"This will be the second-largest event the Auckland has ever played a role in hosting, after the Rugby World Cup, and a great opportunity to showcase our region to the world.
The FIFA U20 event is expected to bring around $6 million into the Auckland's economy and will result in an additional 47,000 international and domestic visitor nights for Auckland, and will expose the city to a worldwide television audience of 170 million in more than 100 countries.
The tournament runs from 30 May until 20 June in 2015 during the local football season, and FIFA hopes that the large youth football playing base will be inspired by the world's best players.
"To have seven stunning venues locked in nearly two years out from the first match gives us a great planning timeframe and we'll use all of it to ensure that a standout event is delivered," said CEO of the Local Organising Committee Dave Beech.
"This tournament has a huge global following and that's the opportunity we have with this event - to deliver exposure for New Zealand and host regions both directly during the tournament and via a massive international television audience."
-nzherald.co.nz