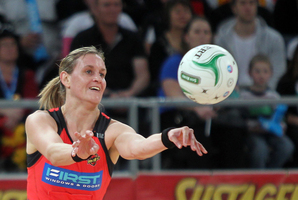 The Magic have confirmed the re-signing of Silver Ferns defender Leana de Bruin for another two years.
De Bruin had a good offer to join the Tactix but decided to stay with the Magic for family reasons. She's also committed to helping the franchise through a rebuilding phase after the resignation of Noelene Taurua as coach and decisions of Laura Langman (Mystics) and Irene van Dyk (Pulse) to play elsewhere.
Their next big target will be retaining Silver Ferns captain Casey Kopua, who has been pursued by the Mystics but is likely to stay in Waikato.
De Bruin rejoined the Magic in 2012 after a stint with the Southern Steel and the 36-year-old will be joined by up-and-coming teenaged talent Brooke Leaver and Samantha Sinclair.
"I was disappointed with the outcome for Magic this year when we finished fourth,'' de Bruin said. ``We didn't reach our full potential and, while there are major changes going on at Magic, I like the challenge of being part of a rebuilding team.
"I appreciated the interest shown by other franchises which demonstrated they valued me as a player. However, Magic is a big part of my life and family commitments featured heavily in my decision making.''
With the new coaching staff of Julie Fitzgerald and Margaret Forsyth picking up the reigns for next year, the Silver Ferns defender is excited to be part of a new era.
"With key players no longer at the franchise, Magic is now obviously in a rebuilding phase and I've committed to being part of that and that's the reason for the two-year contract,'' de Bruin said. "I think this will be good for me. Now that Noeline Taurua is no longer here, that era has passed, so I see this as a new beginning, having a new coach and a number of changes in team personnel.''
Former NSW Swifts coach, and more recently head netball coach at the Australian Institute of Sport, Fitzgerald was pleased to be able to retain de Bruin's services.
"I am delighted that Leana will be returning to Magic for the 2014 season,'' Fitzgerald said.
"She is one of the game's hardest working defenders, constantly pressuring her opponent. Leana has the ability to switch from one-on-one to space defence instinctively.
"Her intensity never drops regardless of the score or opponent and I believe her work ethic will be invaluable in driving her younger team-mates and setting the standard required for this level of competition.''
Of the two newcomers, shooter Leaver comes from a strong sporting pedigree, following in the footsteps of her mother Leonie, a former Silver Ferns shooter and father Brett played hockey for New Zealand.
A member of the Waikato/Bay of Plenty Zone which recently won the inaugural under-23 national title, Leaver leaves with the New Zealand under-21 side on Thursday for the World Youth championships in Scotland.
The Magic are expected to announce further signing in the coming days.
- APNZ