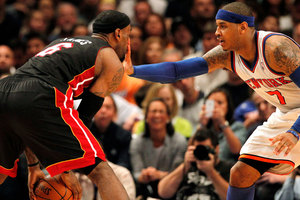 Basketball in New Zealand has enjoyed a rebound in popularity to become the TAB's No 1 sport for betting in 2012/13 and it has also given the sport a healthy cash injection.
Courtesy largely of the TAB's broadcast of the NBA on its Watch&Bet world sports streaming service, as well as the popularity of the Breakers in the Australian National Basketball League, basketball has overtaken rugby union as the big-ticket betting product with Kiwi punters at the TAB.
New Zealanders bet more than $46.8 million on basketball in 2012/13, putting it in the No 1 spot for betting turnover for the first time, just ahead of rugby union at $45.4 million.
The TAB contributes a share of betting turnover and profit to each national sporting organisation on whose sport it takes bets and returned more than $4 million to sporting bodies in 2012/13.
"In our case, we'll receive well over $650,000 from the TAB for the year, which will help us promote the game in New Zealand,'' Basketball New Zealand chief executive Iain Potter said.
"The result's another indicator that basketball is growing in popularity here. It's great for Kiwi basketball fans to know that their betting with the TAB ends up supporting the game in New Zealand. For instance, the TAB helped fund our national age-group tournament.''
Basketball presently doesn't receive any funding from High Performance Sport New Zealand.
While rugby union remains the top betting choice at the TAB by total bets, with more than 50,000 TAB account customers having punted on rugby union during the year, higher value bets placed by almost 17,000 basketball fans put the sport in top spot.
The Tall Blacks ($4) go into tonight's Oceania championships opener against Australia ($1.20) in Auckland as clear underdogs. Australia are coached by former Breakers coach Andre Lemanis.
The top 12 sports, ranked by betting turnover, at the TAB in 2012/13
1. Basketball
2. Rugby Union
3. Rugby League
4. Football
5. Tennis
6. Cricket
7. Baseball
8. American Football
9. Golf
10. Ice Hockey
11. Netball
12. Australian Rules Football
- APNZ