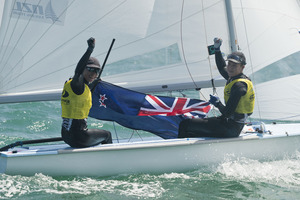 Paper may be the traditional gift for a first anniversary but Kiwi sailors Jo Aleh and Olivia Powrie instead celebrated with more gold.
A year to the day after they stood on the top step of the podium at the London Olympics, Aleh and Powrie added the 470 world championship crown to a burgeoning medal collection.
The pair won today's final race off the La Rochelle coast in France to cap a commanding week and confirm they will be the crew to catch at the Rio Olympics, an event to which they have already turned their attention.
Aleh and Powrie will head to Brazil in coming weeks to do reconnaissance on the course to be used in 2016, leaving little time to bask in the glow of a maiden world title.
But that glow will take some time to fade, with Aleh revealing the pair drew more pride from today's success than their victory in London a year ago.
"We were talking on the way in that we were almost more excited to win the worlds, because we've tried four times and we've stuffed up a few in the past,'' she told Radio Sport. ``It's just awesome to finally do it.''
And they did it in style, triumphing in the medal race after taking an 11-point lead into the final joust. Their final margin of victory was 20 points and it would have been even greater were the Kiwis not docked five points for failing to sign off the third day's racing in the required time.
Clerical errors aside, it was a perfect regatta for Aleh and Powrie, and that allowed for an easy-going attitude heading into the decisive race.
"We were pretty relaxed going into today - it wasn't all over, there was still a bit of a chance,'' Aleh said. "That really helped because we sailed a great race.
"We just had to keep an eye on one other boat - that was the French - and that was what we did for the first lap. For the second lap there were a few opportunities to take, and we took them.''
That contrasts with opportunities lost at previous world championships, with the pair finishing in second, third and fourth in the previous three events.
"After the Olympics we sort of said that we had never won a world championships, so we had unfinished business,'' Aleh said. ``I guess we won a bit earlier in the four years than we though we would.
"It keeps us going and we're happy we're on the right track. There's still so much more to get right - we're just looking forward to the journey.''
Meanwhile, Paul Snow-Hansen and Dan Willcox secured seventh spot in the men's championships after placing third in the medal race. It was an admirable result from the new combination, with one poor day preventing them from challenging for the medals.
- APNZ