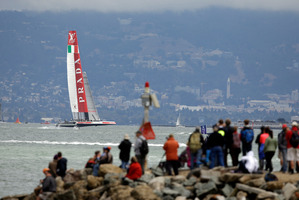 Luna Rossa should sew up their place in the Louis Vuitton final against Emirates Team New Zealand tomorrow after another comfortable victory over Artemis this morning.
In the best of seven semifinals, Luna Rossa are now 3-0 up, with the winner to go through to the best of 13 final.
Ironically, Artemis sailed their best race of the series so far, keeping faith with their analysis that they would get faster as the series progressed. This morning, they finished only 1m 18s behind the Italians - an improvement from the first two races when they hovered about two minutes behind.
But this America's Cup regatta has been a disaster for the Swedish-based syndicate. A flawed design philosophy (which saw them head down a non-foiling path to begin with) and a hull shape which may have contributed to the fatal capsize in May and a re-build of their boat meant they were always going to struggle.
Luna Rossa, on the other hand, have benefitted from time on the water in the semifinals and look as though they will be more of a handful for the Kiwis in the final than they were in the Louis Vuitton round robin.
Today was their best race in terms of overall speed, smooth sailing and consistent foiling. Helmsman Chris Draper, who has been suspect at the starts, won that tussle clearly today and the Italians' superior boat speed saw them double their lead over the first three marks.
Overall, the Artemis crew did better today but the boat against demonstrated that, while it can hold its own upwind, it is obviously slower downwind. That means that today's race will probably be their last; if so, they will finish this regatta with only four races in total for a US$20 million bill covering two boats - about US$5 million per race.