George Smith episode underlines authorities' head-in-the-sand attitude to dangers of concussionin face of neurological evidence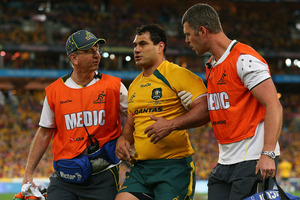 Early last month Wallaby flanker George Smith returned to the field just five minutes after a sickening head clash with a British and Irish Lions opponent.
So much for rugby authorities' soothing words about their appreciation of the dangers of concussion. And so much for implanting a new culture in the game. Past and present players competed against each other to applaud Smith for his supposed courage.
If increased attention is being focused on head injuries, that one episode underlined the head-in-the-sand attitude which continues to prevail among the game's governors and those most at risk of long-term brain damage.
This provided all the more reason for discomfort when a troubling report from a brain expert was released this week. Scottish neuro-pathologist Dr Willie Stewart said he believed he had discovered the first confirmed case of early-onset dementia caused by playing rugby. He drew on an analysis of brain tissue from a former rugby player aged in his 50s. This contained higher levels of certain abnormal proteins, which are associated with head injuries and dementia, than a boxer who had been diagnosed with a type of dementia known as punch-drunk syndrome.
This finding refers only to an individual case. Factors other than knocks on the rugby field could be at play. But that is probably wishful thinking. The likelihood of parallels with the acknowledged early onset dementia associated with American football is becoming increasingly apparent. Indeed, given the prevalence of big hits since rugby entered the professional era, it would be surprising if this were not the case.
The reaction to the George Smith episode shows that realisation has not yet dawned on many players. For every player like the experienced Conrad Smith, who took two matches off after being knocked out playing for the Hurricanes against the Bulls in this year's Super 15 competition, there are many young men making their way in the game and reluctant to heed warnings that could limit or terminate a lucrative playing career. New Zealand has witnessed a number of instances - perhaps most notably Steve Devine and Leon MacDonald - of players suffering repeated concussions and, unwisely, declining to retire at an early point.
In the interests of such players and, indeed, the game, it might have been expected that rugby authorities would have been vigorously analysing the extent of the danger and ways to reduce it. Sadly, that has not been so.
The New Zealand union has done more than most, commissioning research, in tandem with the International Rugby Board, into the long-term health impacts of rugby on elite and amateur players. Its findings will be known this year.
The union has also been at the forefront of introducing systems in the national provincial championship that see players who get a knock to the head more appropriately assessed.
The latest research, however, heightens the need for much more to be done. Neurological experts should play a central role in ascertaining the extent of the problem, especially by examining players with long-term brain damage. Rugby authorities must also take responsibility for implanting a new attitude to head injuries among players.
None of this may be particularly palatable for the game or those who earn their living from it. But the consequences if heads remain buried in the sand will be even more catastrophic.