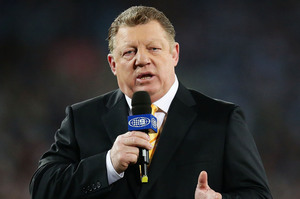 The owner of UK Super League outfit Warrington has been in touch with organisers of the Auckland Nines about whether his side might one day compete in the event.
The nines event, scheduled to be played at Eden Park on February 15 and 16, is likely to be confirmed in the next fortnight with close to $3 million in prizemoney. It's a concept that has received support from the 16 clubs and the NRL - the annual All Stars game has been put on hold in 2014 in an apparent signal it's been sacrificed for the nines.
But it has also received some criticism, with Penrith boss Phil Gould labelling it a "cheap gimmick'' and an ``abuse of the players' profiles'', and Melbourne coach Craig Bellamy saying the only way his World Cup players will take part is if they are threatened with a big fine or thrown out of the competition if they don't.
Storm captain Cameron Smith is also wary of the idea and Billy Slater has said he couldn't see himself playing because of the load already placed on top players.
It might not be that simple for Bellamy, with the terms of the agreement likely to include a clause which states 75 per cent of a club's top 25 players need to be involved, including a minimum of one of their top five. Melbourne could have as many as eight players at this year's World Cup.
Warriors chief executive Wayne Scurrah has signalled they will play their best side possible in an attempt to win the event.
"There will be some teams who play their best side and have a crack at winning the prizemoney and then other clubs who choose not to do so,'' promoter David Higgins said.
"If the concept goes ahead we can guarantee there will be some star players.
"There's a rugby union event [in Wellington] that has had zero stars play in it for nine years that sells out really quick. Let's get real. This event, under the terms discussed, is guaranteed a certain level of quality that is vastly better than the rugby union event that sells out. It's hysterics to suggest there's an issue around quality.
"It's difficult for us to sit here and listen to the odd critic but, for every critic, there are many more who think it's a wonderful, innovative concept. The fact the NRL and 16 clubs are seriously looking to progress it after a year or so of due diligence suggests there are many in the game in favour of it. Let's not get carried away by one or two vocal critics. If the game didn't want it to happen, it wouldn't happen.''
A sevens tournament was the traditional forerunner to the first-grade season between 1988 and 1997 and had a brief revival in 2003-04 when NRL teams, some English clubs and international sides were involved.
Warrington owner Simon Moran - a multi-millionaire who in 2011 was rated by the Guardian as the ninth most influential man in music for his ownership of the V Festival and role in reuniting Take That - has been in touch with Higgins about whether his club might one day be involved in the Auckland Nines.
"He thought the Auckland Nines was a great concept and would love to see international involvement, including potentially his team playing in it,'' Higgins said. ``Ultimately it's the NRL's decision on those matters. I'm sure the NRL would be open to innovation in the future but in year one that's unlikely.''
- APNZ