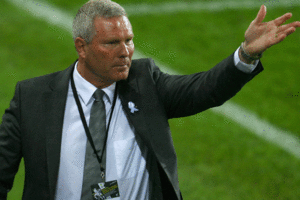 Ricki Herbert will go head to head with the man who replaced him when he coaches a New Zealand-based All Whites side against the Wellington Phoenix in Rotorua next month.
The Phoenix were scheduled to play a pre-season friendly against Central Coast Mariners on September 22, but the Australians pulled out after getting the chance to play in Indonesia.
Undaunted, the Phoenix, Rotorua District Council and New Zealand Football have joined together to put on a unique fixture at Rotorua International Stadium.
The teams will be managed by the two most experienced A-League coaches in Herbert (154 games) and Ernie Merrick (151 games). Adding intrigue to the clash is the fact Merrick replaced Herbert at the helm of the Phoenix when the All Whites coach resigned amid a disappointing season in February.
"I think it is a really good idea and I'm pleased that Ricki was willing to get involved," Merrick said.
Herbert was just as enthusiastic, saying the timing was perfect with the Phoenix preparing for the A-League season and the All Whites looking ahead to November's World Cup qualifier.
"Why wouldn't you want to help each other?" Herbert said. "It is a crucial time for both of us and we have to get the players where they need to be physically.
"Who knows, Ernie might find another player, and it will give me an opportunity to look at one or two outside the squad."
Phoenix internationals Glen Moss, Andrew Durante, Ben Sigmund, Leo Bertos and Jeremy Brockie will play for New Zealand A, while Michael Boxall and under-20 internationals Luke Adams, Louis Fenton and Tyler Boyd will stay with the club side.
The Phoenix are likely to be without their All Whites for the opening game of the A-League season against Brisbane Roar, with it being in a FIFA window, and Merrick will be able to experiment with that in mind.
"The more preparation we get the better and, so far as the Brisbane game goes, it is a good opportunity to try a few things," Merrick said. "Unfortunately I don't think (Costa Rican international) Kenny Cunningham will be available as he is likely to be called up by his country in the Fifa window.
"Despite that we'll have a strong side and it will give me a chance to see where we are at."
- APNZ