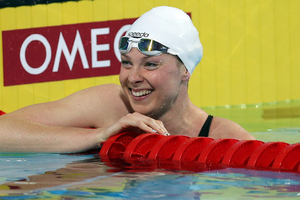 Lauren Boyle has added another international win to her resume on the second day of the FINA World Cup in the Netherlands today.
Boyle followed her stunning victory in the 800m freestyle on the first day with victory in the 400m freestyle in Eindhoven.
The 25-year-old clocked 3:55.16 to beat the challenge from the short course world champion Melanie Costa Schmid of Spain, the double London Olympic medallist Mireia Belmonte Garcia, also of Spain, and Denmark legend Lotte Friis.
Her time smashed the New Zealand short course record of 4:00.59 that she set during her record-breaking 800m win on the first day.
Costa Schmid, the fastest qualifier, set the early pace in the final before Boyle took the lead at the 200m mark, and from there reeled off splits all in the 29 second range, finishing with a blistering 28.96s for the final two lengths for the victory.
Costa Schmid was second nearly two seconds behind with Belmonte Garcia out-finishing Friis for third.
In the two days of competition at Eindhoven, Boyle has obliterated the national records in the 200m, 400m and 800m freestyle with today's victory, like the 800m freestyle yesterday, rattling the world record mark of 3:54.85 set by Camille Muffat of France last year.
Earlier North Shore's Shaun Burnett finished 14th fastest in the heats of the 100m butterfly in 54.87.
The pair now head to Germany for the second leg of the FINA Arena World Cup in Berlin on Saturday and Sunday(local time).
Day 2 Results:
Final:
400m freestyle: Lauren Boyle (NZL) 3:55.16, 1 (NZ Record); Melanie Costa Schmid (ESP) 3:56.84, 2; Mireia Belmonte Garcia (ESP) 3:58.21, 3.
Heats:
400m freestyle overall: Costa Schmid 4:01.85, 1; Boyle 4:02.17, 2; Sharon van Rousendaal (NED) 4:02.94, 3.
100m butterfly overall: Steffen Deibler (GER) 49.70, 1; Thomas Shields (USA) 50.35, 2; Nikolay Skvortsov (RUS) 51.08, 3. Also: Shaun Burnett (NZL) 54.87, 14.