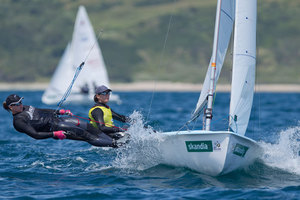 Jo Aleh and Olivia Powrie will hope a rookie clerical error won't sink their chances of claiming a first 470 world title.
The Olympic champions won the first race of the third day of the regatta in La Rochelle, France, overnight (NZT) _ the first day of finals racing _ but failed to sign off in the prescribed time at the end of the day and were handed a five-point penalty.
It means they are now sixth overall on 28 points, 12 points behind the French combination of Camille Lecointre and Mathilde Geron at the top of the leaderboard.
Aleh and Powrie are by no means out of the running for the world title but the mistake will make things more difficult. They were 18th in the day's second race in eight-14 knots of unstable breeze with strong tidal currents and a choppy sea.
"We managed to get off the line in the first race in a decent place and lead the fleet around the course from start to finish,'' Aleh said. "In the second race we had the start and first beat pretty sorted sitting near the front of the fleet but got a bit tangled up in boats on the second beat and fell back through the fleet.
"Unfortunately for us, we made the totally rookie error of not signing off in the time period at the end of the day so have had five points added to our scoreline. We have no excuses for it, just simply forgot. A seriously frustrating mistake to make.''
The leading New Zealand men's crew of Paul Snow-Hansen and Dan Willcox continue to impress and are second overall despite copping a two-turn penalty in the day's first race for infringing on the Australian crew.
The penalty put them in last from 38 boats on the first leg but were 19th by the top mark and worked their way up to 14th by the finish. They won the second race after a perfect start and are on 18 points.
Australia's Matt Belcher and Will Ryan lead on 10 points, with Kiwis Francisco Lardies and Luke Stevenson 51st and Richard Power and John Power 96th in the 114-boat fleet.
Three races are scheduled tonight (NZT) with the medal race on Saturday night (NZT).
2013 Men's and Women's World Championships
New Zealand results from the 470 world championships sailed off La Rochelle, France, overnight (NZT):
Women (52 boats)
6th _ Jo Aleh and Polly Powrie (4, 6, 18)
Men (114 boats)
2nd _ Paul Snow-Hansen and Dan Willcox (3, 15, 1)
51st _ Francisco Lardies and Luke Stevenson (18, 11, 16)
96th _ Richard Power and John Power (16, 19, 19)
- APNZ