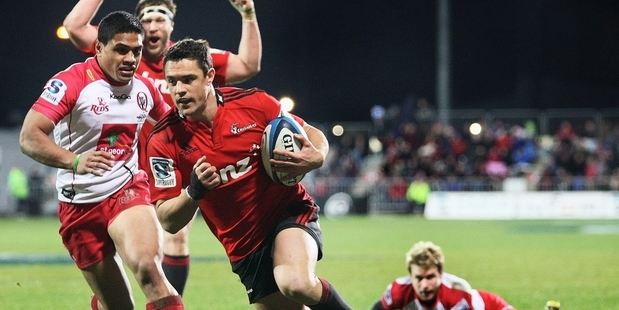 Each day this week nzherald.co.nz marks the New Zealand Super Rugby franchises following the Super 15 season. Today: Patrick McKendry rates the Crusaders.
Season record:
11-5, 2nd in NZ conference, 4th overall
1. Best result
43-15 v Chiefs, Christchurch, Week 19
A demolition of the defending champions which suggested the Crusaders could go all the way. An incredibly dominant forward pack pushed the Chiefs around in all facets - they were especially good at the breakdown - and their backs ran riot. The Crusaders were so fired up for a good performance that despite their lead they still ran the ball after the halftime hooter and almost scored. Their 38-9 quarter-final thrashing of the Reds wasn't bad either.
2. Worst result
14-16 v Force, Perth, Week 9
It remains the nadir of their season.
A couple of weeks earlier they had beaten the Stormers in Cape Town in a brilliant against-the-odds-performance. The unfortunate thing for them is that the flat and uninspired performance in Perth wasn't even a surprise. The city has been a graveyard for the Crusaders over the past few years despite the Force being consistently one of the poorer teams in the competition.
3. Best player
Dan Carter made a late run for this. The forwards were consistently good, though, and they deserve the kudos. Wyatt Crockett, Corey Flynn, Luke Romano and Sam Whitelock were excellent, as was George Whitelock. Openside flanker Matt Todd just clinches it though for his consistency.
4. Biggest flop
Robbie Fruean's need for heart surgery during the season quickly put into focus why he had been flat early on. Israel Dagg wasn't great early but improved after the All Blacks tests in June. Owen Franks wasn't as dominant as he has been, but Dagg probably clinches it, although it's harsh because he was much better in the latter part of the season.
5. 2014 Prospects
Probably another semifinal loss. They were closer this year by two points - a 20-19 defeat to the Chiefs instead of last year's 20-17, but that means nothing and unfortunately for them their loss wasn't a surprise even allowing for their big win in Christchurch only weeks earlier. They need an injection of X-factor in the backs before they can go all the way. Colin Slade and Tom Taylor will vie for the No10 jersey in Dan Carter's absence.
Other reports:
Blues - C
Hurricanes - C
Highlanders - D
- APNZ